Top Five Sustainable Event Venues Across the Globe
19 July 2021
After a year of essentially carbon-free virtual events and limited travel, live events come with a new price tag that businesses and attendees are paying more attention to than ever – event sustainability.
One of the best ways to reduce an event's carbon footprint and showcase your event's eco-credentials is by choosing a state of the art sustainable venue. Whilst nearly all venues are taking steps to be more sustainable, these venues are truly leading the way...
*Please note: These venues may not be available for events due to COVID-19 restrictions*
The Crystal, London
Opened in 2012, The Crystal boasts long list of accreditations that make it one of the most sustainable event venues in the world. It generates all its own energy using solar panels and its own ground sourced heat pump, giving it a heating bill of £0.
It's also conveniently located a 2 minute walk from the Docklands Light Railway (DLR), has 15 e-vehicle charging points on site and 66 bike parking spaces making it a great choice all round.
H2 Hotel, California
For events taking place across the pond, the H2 Hotel in California is a first class choice. It holds the gold standard in sustainability (LEED NC 2.2 Gold Certified Green) which means everything is designed to use less energy, water and natural resources while creating less waste.
It's also an incredible venue in terms of facilities, with 36 eco-chic rooms and suites, multiple event spaces, and a casual restaurant and lounge.   
Daylesford Farm, Oxfordshire
Perhaps the UK's most famous organic farm, the Daylesford has expanded to include an extensive events space that can be adapted to any type of event. The natural setting lends itself to activities such as craft workshops and cookery classes which complement a sustainable themed event perfectly.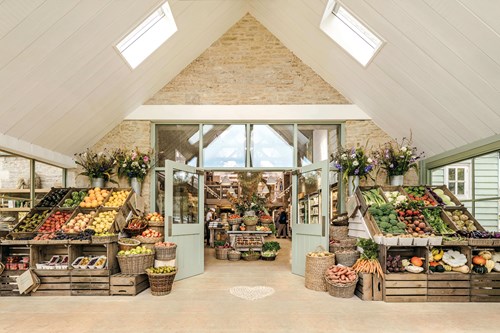 Manchester Metropolitan University
Committed to being carbon free by 2038, sustainability is at the heart of everything Manchester Metropolitan University does. It's one of the most renewable energy friendly universities, making it a fantastic choice for events taking place in this amazing city. It's venue credentials are helped by Manchester's brilliant network of public transport, which includes buses, trains and trams.
QO, Amsterdam
Coming soon, QO Amsterdam is leading the way with a circular approach to venue design and use. Their living building is built using as many recycled materials as possible with over a third of the concrete used coming from Amsterdam's iconic old Shell building.
You can even experience their approach first hand when dining in their restaurant, where many of their fresh fruits and vegetables have been grown in the building's venue own greenhouse.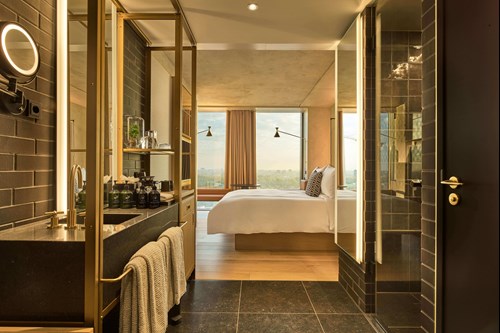 To talk to us about hosting your next event in a truly sustainable way, get in touch with one of our event specialists now. Click the button below to send us an email, we'd love to help.