At the height of lockdown, the Inconnection Team kept thinking about clients and the impact of the 'new normal' on their lives and wellbeing. We knew we wanted to reach out and send our best wishes in challenging times and our sending service, MemMail, was the perfect way to do just that.
Read about how we used MemMail to connect with our own clients during a difficult time and the enormous response we received. 
How MemMail gave us a much-needed lift
Our campaign started with a simple idea. Clients everywhere had plans disrupted, new working conditions to deal with and empty hours to fill. We wanted to show we understood, had similar experiences and were staying positive in difficult circumstances. That's why we struck on the idea of sharing the wise words of The Boy, The Mole, The Fox and The Horse from Charlie Mackesy's best-selling book. We set the MemMail Team running and soon, beautifully packaged books were landing on the doorsteps of close clients across the country.
An instant and engaging response
From the moment the postman arrived, feedback started flooding in. From CEOs to personal assistants, marketing managers to sales directors; the book seemed to resonate. We received calls, website visits, emails, social media comments and text messages. In fact, 90% of recipients of the book took time to say hello and send thanks. Our intention wasn't to drive demand or give our team a boost but, the reaction was incredibly rewarding. The comments below are good examples of the feedback we received:
"I had seen illustrations from the book around my neighbourhood, along with some of the uplifting quotes - I had no idea of the source! Really appreciated the message at a time like this :)"
"Thank you SO much for the gorgeous, gorgeous book. So poignant and perfect for these strange old times we are living in! I cannot thank you enough."
"THE MOST WONDERFUL, THOUGHTFUL, PRESENT. As Adele will attest, I don't go in for gush. I'm all about honesty. This is simply the kindest gesture. It has truly made my day and without question has given me a tremendous lift in what has been a rollercoaster of furlough-emotions!!"
"Nick, many thanks to you, Adele and the team for the book. At times like this the little things count more than ever so thank you. It has brightened my day."
"Thanks for the lovely book - it was a lovely distraction. Just long enough to provoke some thought and to escape from the Zoom meeting trudge."
"You are so creative and thoughtful. Very, very much appreciated."
Social reaction
Additionally, the MemMail campaign received a great response on Social Media, including the following:
Why did it work so well?
We know from our Science of Memories Research, that memory creation and recall is affected by a host of factors including emotions and senses. It is almost certain that the physicality of the book, together with shared feelings during these usual times, are key factors in the high levels of engagement with our MemMail campaign. Understanding these factors is important as they help us to design, organise and host live events that achieve the results you need.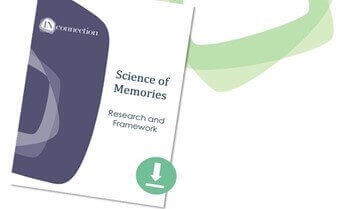 Results in Brief
Our MemMail campaign was designed to give clients a little lift in their day rather than drive business opportunities for Inconnection. However, we have undoubtedly benefitted from a small act of kindness, with:
Exceptional pre-mailing email engagement and response
Second most visited web page in the campaign period with over 4-minute dwell time per visitor to our sending service landing page
90% of recipients of the book made contact with Inconnection within a few days
Positive social media sentiment and community reach
Your next MemMail campaign 
The unusual circumstances we all found ourselves in during the past couple of months led us to trying something a little bit different with MemMail, and the size and sentiment of the response was truly unprecedented. For us, this only proves how diverse and flexible the service can be - whether it's used for a specific business objective or as a way of thoughtfully reaching out to those important to your business. 
For your next MemMail campaign, just let us know the size and scope you have in mind and what you'd like to achieve and we'll get to work. Click the button below to send us your brief.