Is virtual the answer? Virtual events as a valid and powerful alternative
11 March 2020
It's an uncertain time for the events industry with news of more cancellations every day, whether it's premier league football or large tech industry events.
The knock-on effect for the tourism industry as a whole is potentially extremely damaging, and a travel trade association that represents more than 400 tourism businesses has already called on the government for financial help to mitigate the impact of Covid-19.
But as Exhibition News Editor, Saul Leese, spoke about on BBC News yesterday, industry events are incredibly important to the UK economy. Events are worth approx. £165 billion in terms of revenue for UK plc, and cancelling events will "effectively [cut] off almost every single trading opportunity for British companies and that could have catastrophic effects".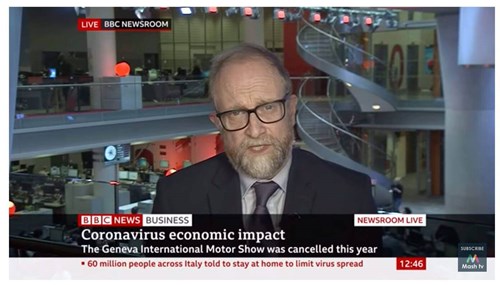 As an events agency, we've got a unique opportunity to offer some sort of balance which of course helps keeps the public safe whilst also retaining as much value from the events industry as possible.
We understand the incredible force of the events industry, in terms of not only bringing people together but acting as a platform for education, sharing information and making industry-changing advancements.
We believe that when done in the right way, virtual events do have the power to make an impact on an incredible scale. The digital space has already changed the way we consume and share information, so why not harness its power for the events industry too?
Whilst we will always be strong advocates of face-to-face communication and the value of in person networking, where circumstances like the ones we are seeing today make that almost impossible, the industry needs an alternative solution.
The Power of the Virtual 
In the face of the logistical problems facing the events industry today, digital technology and virtual events are the answer to some of the industry's biggest problems.
Virtual events and digital communication facilitate communication with delegates from all over the globe

The reach of virtual events can go far beyond those who may have been able to attend in person

The interactive element of event apps becomes even more powerful, allowing delegates to meet and connect with a much wider audience than they may have done in-person

Technology led events will be transformative from an environmental and sustainability perspective
Whether it's an entirely virtual event where instead of a conference centre, you've got a dedicated event website which acts as a hub for everything from running orders, interactive breakout sessions, livestreams and searchable delegate data and more. Or you decide to run a hybrid event, which combines the benefits of in-person events on a smaller scale with the reach and ease of virtual, the options are almost endless and totally customisable.
We've long been delivering dynamic, creative and adaptable event solutions for our clients and would love to talk to you about your event needs. Speak to a member of the Inconnection team now.