Top Ten Sustainable Venues
18 July 2022
It can be hard to balance business needs with their impact on the environment and society. Meetings, incentives, conferences, and events all come with a whole host of ramifications to consider. But there are many actions you can take to reduce your company's impact, but probably one of the biggest choices when it comes to running events is venue choice. We have rounded up some of the best venues dedicated to CSR and sustainability.
CCT Venues is one of the best event spaces when it comes to CSR in London. Over the years they have been recognised by the Clean City Awards, earning themselves an array of awards including a Merit, two Gold, seven Platinum accolades, and even the Chairman's Cup in 2016. They are also one of only three venues in the UK to have Platinum IACC Green Star accreditation for environmental best practice in the meetings industry.
It's no surprise they have all these awards when you look at their CSR policy, but we have picked some of the most noteworthy sections to give you an idea of their commitment. Don't be fooled into thinking this is all they do though, they have incorporated sustainability into every facet of their business with a top-down approach that starts with a CSR journey for every employee at induction.
Here are some of their initiatives already in place –
• Plant a Tree Initiative, whereby they plant a tree every time an event is booked at one of their venues.
• They have sourced 100% renewable energy at CCT Venues – Barbican and Bank Street.
• Sustainable purchasing policy, giving preference to local and Fairtrade products.
• Kitchens only use Free Range eggs from local farms, fish from sustainable sources, and Red Tractor accredited chickens. Preference is given to British meat, Fairtrade products, seasonal vegetables, and local produce wherever possible.
• Furniture is donated to charities rather than being sent to landfills.
• Water is transported in reusable glass bottles filled from the mains rather than using plastic bottles.
Exemplifying their commitment to Reduce, Reuse, and Recycle, when their conference chairs needed improving for comfort, they didn't throw them out. Instead, they had them repadded, and used the old padding and upholstery to protect saplings from the cold and pests.
CCT Venues ensure a continued focus on CSR by holding monthly meetings, so you can be assured they are a great choice for sustainable meetings and conferences.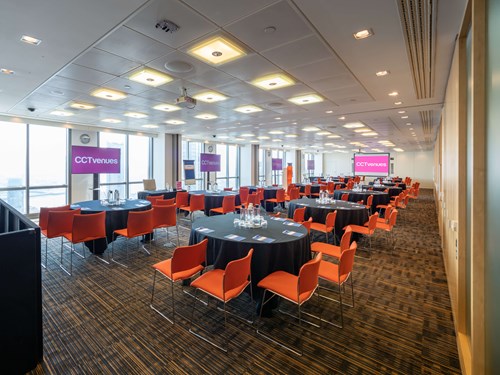 With the Golf's International Mark of Sustainability and GEO certified® status, The Grove is the golfing destination to choose if you want to minimise your impact on the environment. Their commitment and effort to running a sustainable golf course is clear from their extensive policy, covering everything from water management to wildflower areas.
Here are some of their initiatives already in place –
• Rainfall compensation systems automatically shut down irrigation if rainfall reaches a predetermined rate, resulting in water savings of up to 30% annually.
• Minimised areas of managed turf reduce mowing, irrigation and use of chemicals - The Grove actively uses organic fertilisers and more bio products on its golf course.
• Collaboration with Hertfordshire & Middlesex Wildlife Trust to create areas of naturalised habitat, including River Gade chalk stream conservation, maintenance of native fescue grasses, and the introduction of wildflower areas.
• New wetland area within woodland close to the 5th hole, creating a perfect environment in which newts, frogs, water vowels and dragonflies can thrive.
• Ongoing investment in renewable energy programmes.
• Active procurement of locally sourced products and services.
It's not just the course that benefits from The Grove's continued efforts towards sustainability. They also incorporate sustainable purchasing policies into their operations, as well as eliminating single-use plastics in their venue.
If you want to ensure your next golf day is at one of the most sustainable courses available in the UK, then The Grove is the venue to choose.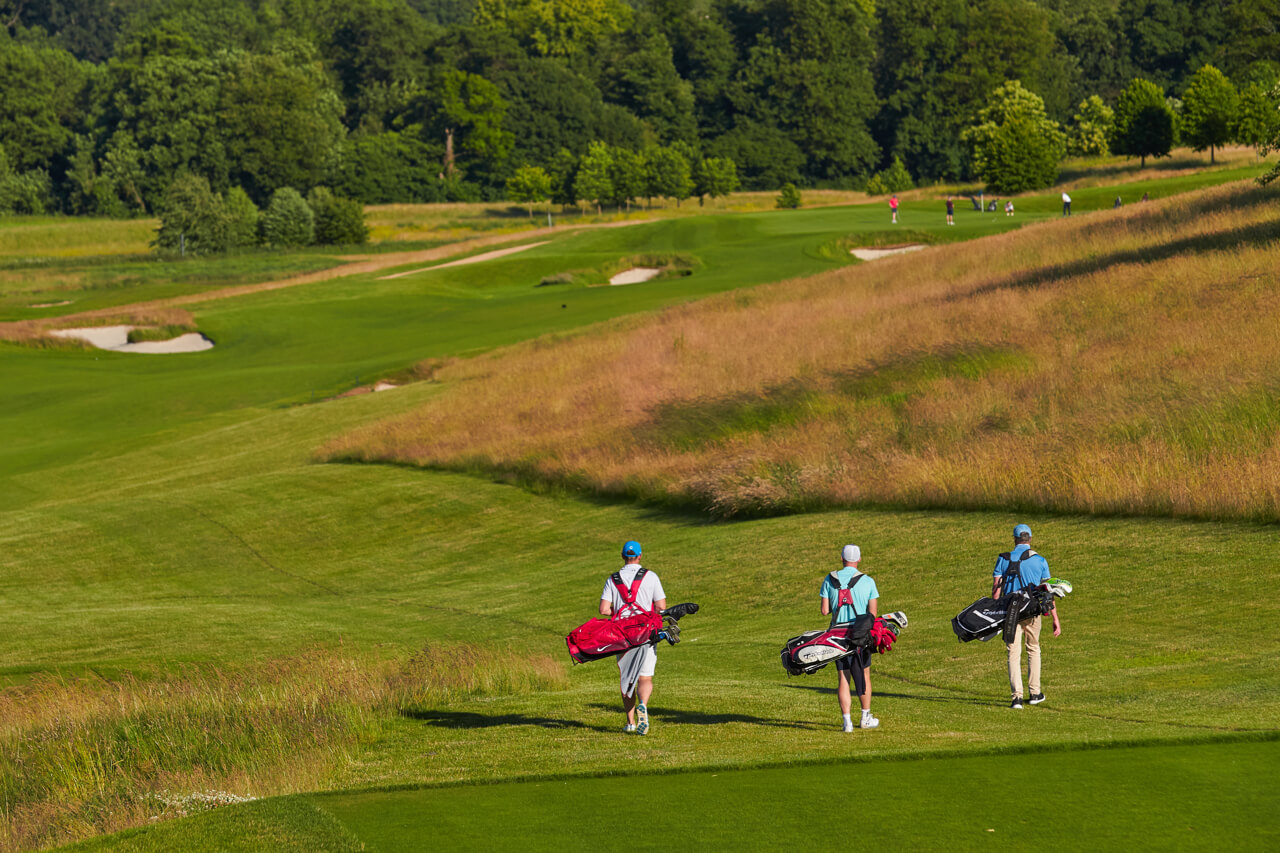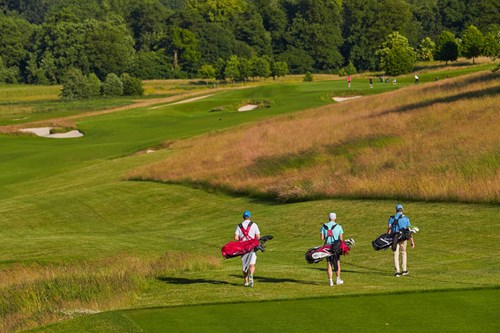 CSR isn't just about the environment though and whilst our next entry is committed to sustainable purchasing and reducing their environmental impact, having been awarded the QSostenible certificate, they truly shine for inclusivity and contribution to society.
Their 'Everyone Inclusive' approach integrates people with disabilities into their workforce and provides accessibility for all at their 29 hotels throughout Spain. Their venues have been adapted for people with disabilities, earning them the universal accessibility certification (UNE 170001–2).
Here are some of their initiatives already in place –
• Diversity in the workplace with over 40% of their staff having some type of disability.
• All hotels certified 100% in Universal Accessibility.
• Rooms have individual articulated beds, telephone adapted for people with hearing and visual disabilities, and automatic curtains with accessible keypad.
• Bathrooms have inclined mirrors for people in wheelchairs, amenities in Braille, chairs and support bars adjustable in height and removable, and an automatic lifting shower curtain.
• The bars and restaurants have marked food, information in Braille, and reserved accessible points, and wide accessible spaces including counters.
• Swimming pools and common areas are prepared with different levels and ramps so that access is fully functional for everyone.
Due to their work towards accessibility in tourism they are the first Spanish company to receive the Ethics Award from the United Nations World Tourism Organisation. But they don't stop there, aiming to turn their hotels into 'schools of change agents' for employees, citizens, customers, and guests when it comes to sustainability and accessibility.
Ilunion is the perfect choice for events that are both sustainable and ensure everyone is included in the conversation, and with 13 locations across Spain there is a wide range of choice.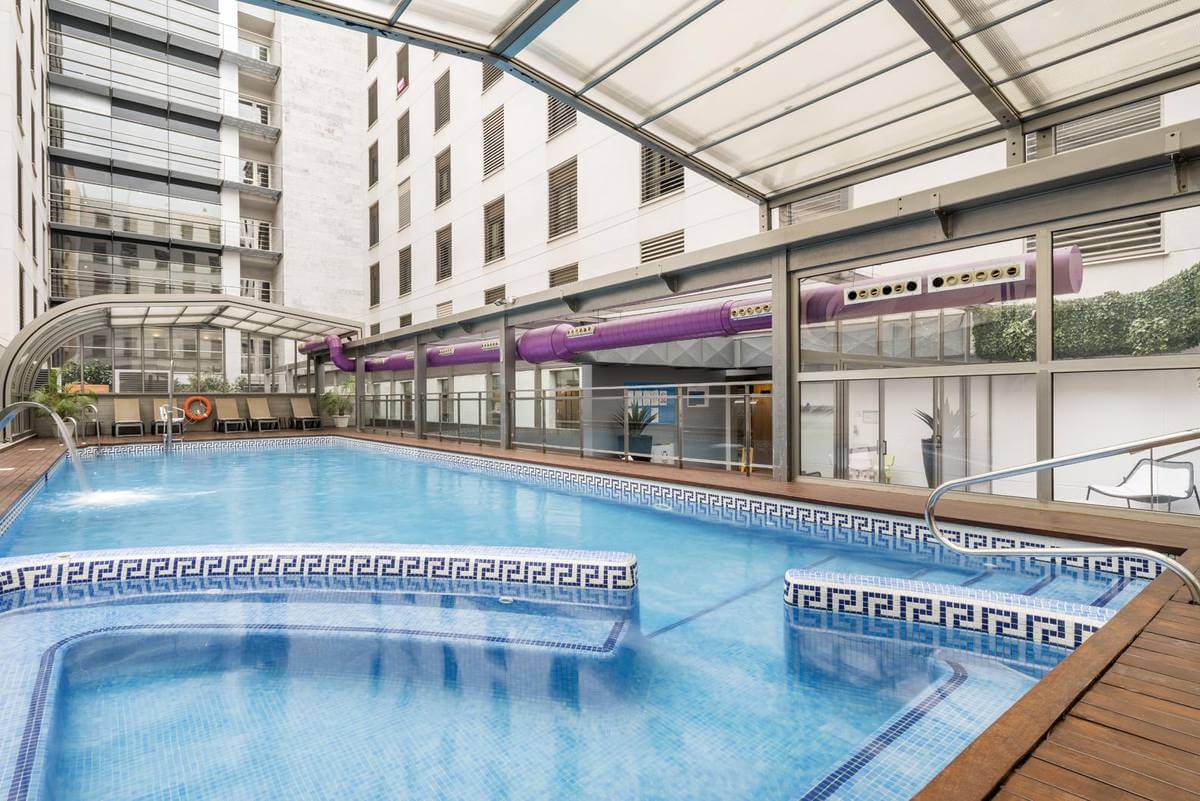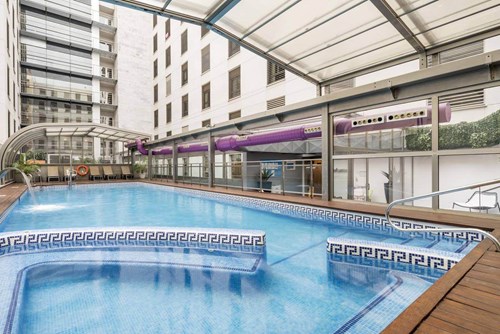 Michès Playa Esmaralda Resort, Club Med
Club Med's dedication to CSR is clear through their mission to support voluntary work by employees, create a sustainable resort, and add value to the local community. They are involved in everything from beach clean ups, supporting local schools, to creating jobs for locals.
At their latest resort, Michès Playa Esmaralda, they have embodied this mission. From construction through to operation they have ensured that the work they do is carried out with care for the environment (being BREEAM certified), the community, and charities.
Here are some of their initiatives already in place –
• No single use plastics by using silverware, glasses, straws instead.
• Locally sourced coffee and cacao by partnering with local farmers.
• Sustainable uniforms made from recycled plastic bottles.
• Provide language, vocational, and hospitality training for locals.
• Using 45,000sq ft of solar panels to create renewable energy for the resort.
• Sponsoring local farming development to increase demand for local farmers.
• Created a plant nursery to replant or preserve trees from the construction process as well as continuing to plant more.
• Running responsible excursions designed to promote sustainable tourism by highlighting natural gems and culture of the Dominican Republic.
• Running interactive family focused environmental workshops and hands-on gardening activities to inspire future generations.
If that wasn't enough their community work includes long-term initiatives in local schools and orphanages, education schemes, and the culmination of their charity – the Worldwide Snack, which invites children to each resort for bazaars, activities, banquets, and entertainment. They also fulfil the dreams of seriously sick children through Petits Princes Association and the Make-A-Wish Association.
With venues across the globe, Club Med is a fantastic opportunity to visit resorts built and maintained responsibly, with a dedication to improving the lives of children in the local area.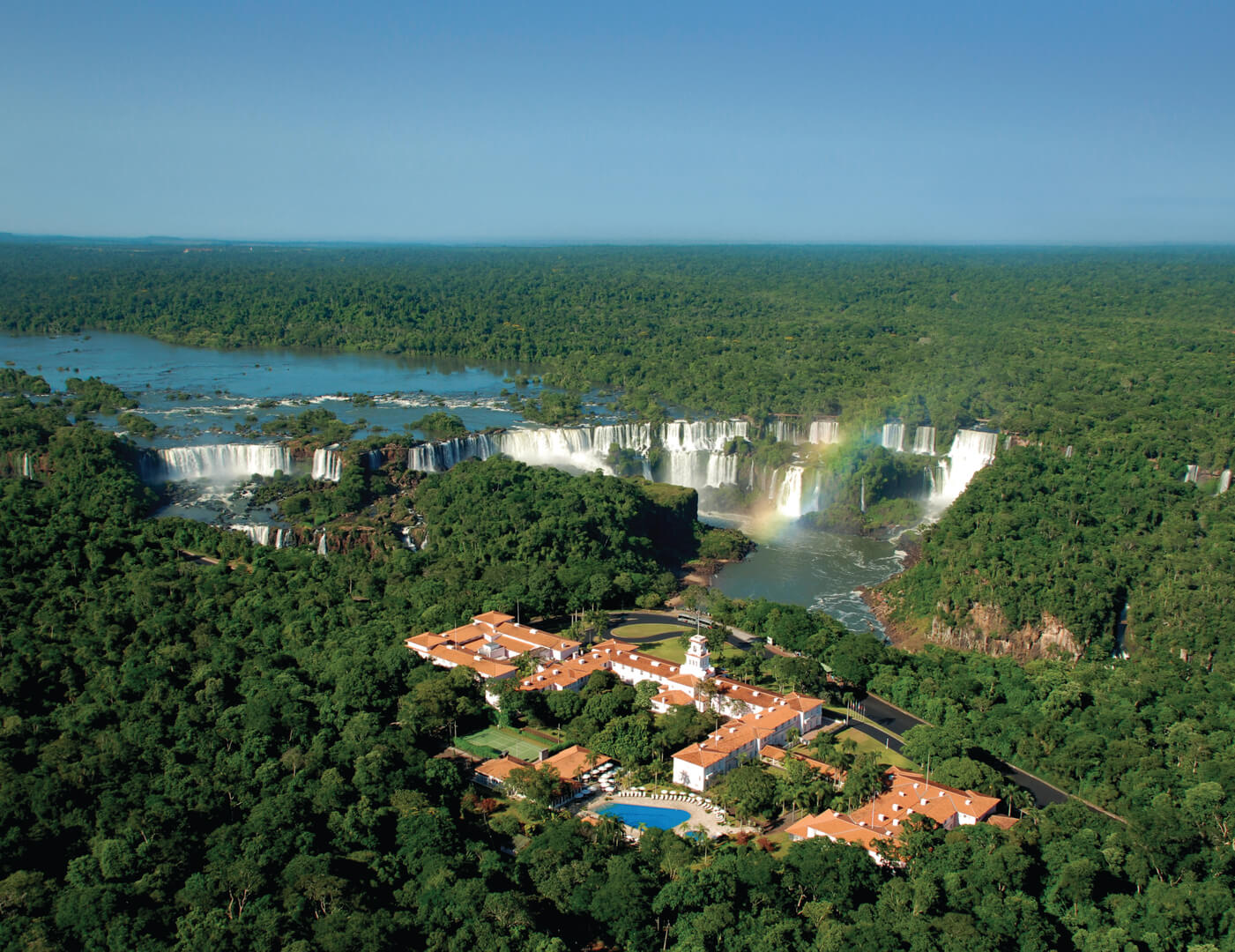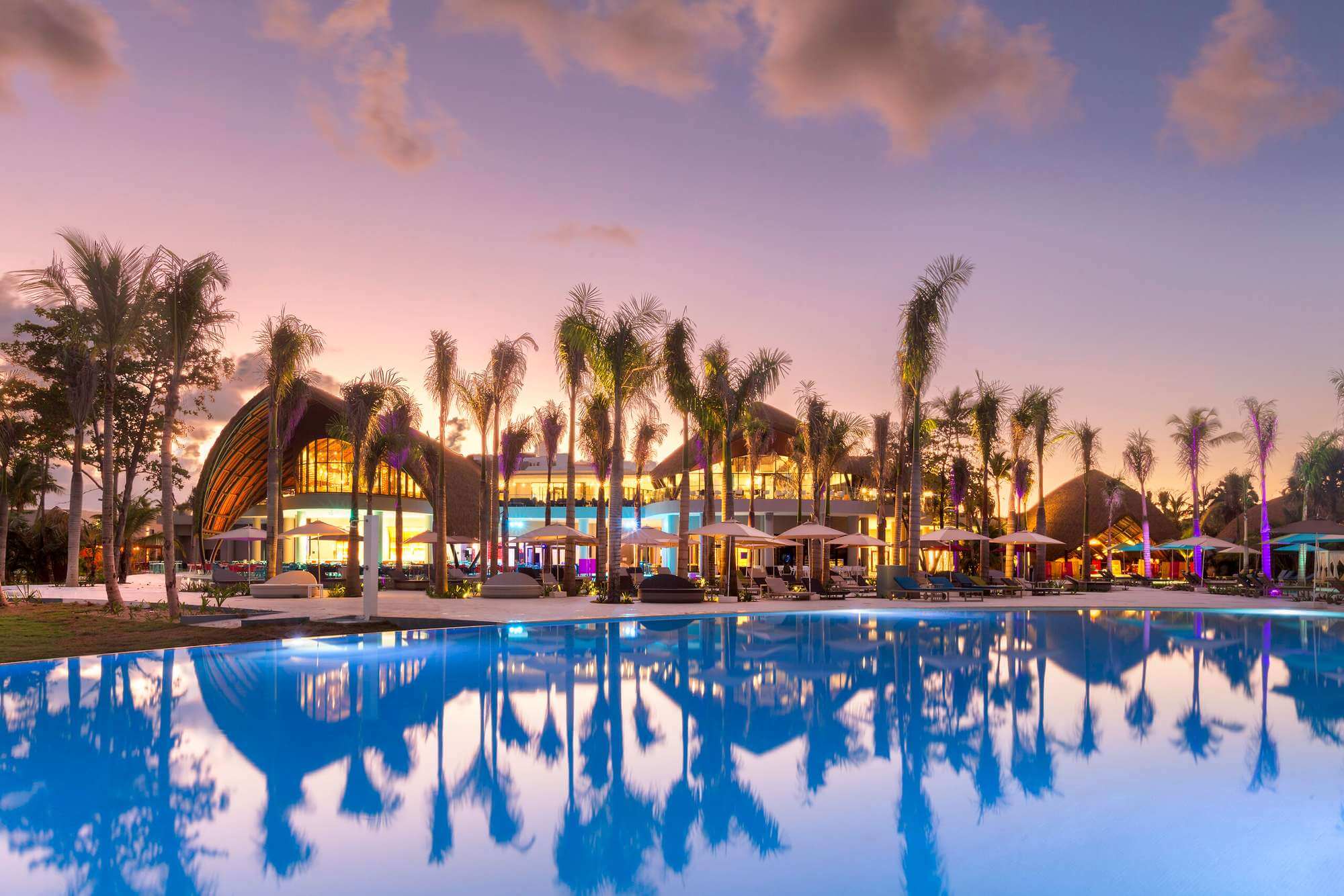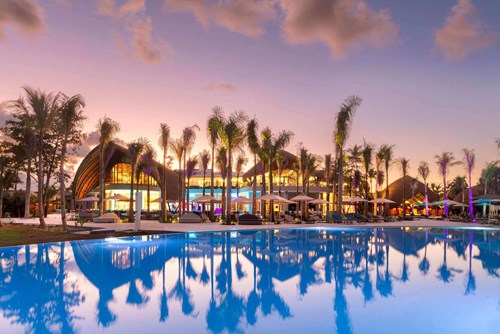 When Das Cataratas was procured by Belmond they not only invested in the property but the surrounding national park, starting their commitment to working alongside the environment rather than against it. They also support the environmental school within the park, allowing children to come and learn about the region's rich ecosystem.
Being the first hotel in Latin America to receive the ISO 14001 environmental management certification, Das Cataratas sets the benchmark for environmental work. They've also been awarded the SA 8000 certifications for Social Responsibility, as a testament to their multifaceted commitment.
Here are some of their initiatives already in place –
• Invested in the surrounding national park and updated and redesigned the infrastructure.
• Private cars are not permitted in the National Park, only using Visitor Centre buses and authorised vehicles provided by Das Cataratas.
• Staff are continuously trained in best environmental practices.
• The 'Iguassu Jaguars' initiative – a project to evaluate the local carnivore population, and identify threats, particularly to jaguars and pumas.
Their work in the Iguazú National Park, alongside their partners, is clear from the doubling of the puma population and Jaguars increasing from 8 to roughly 35 in the area. Work is continuing though to bolster the numbers of these beautiful animals.
If you want one of the most iconic views in Brazil whilst knowing the exquisite landscape is being taken care of through well thought-out initiatives then Das Cataratas is the perfect resort.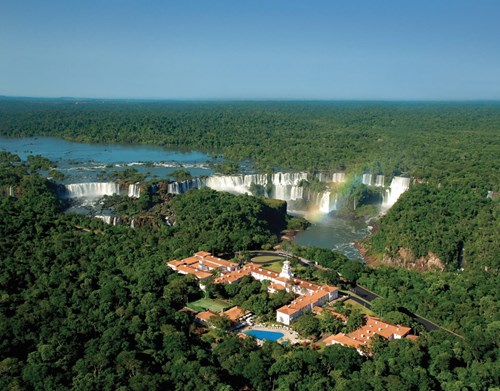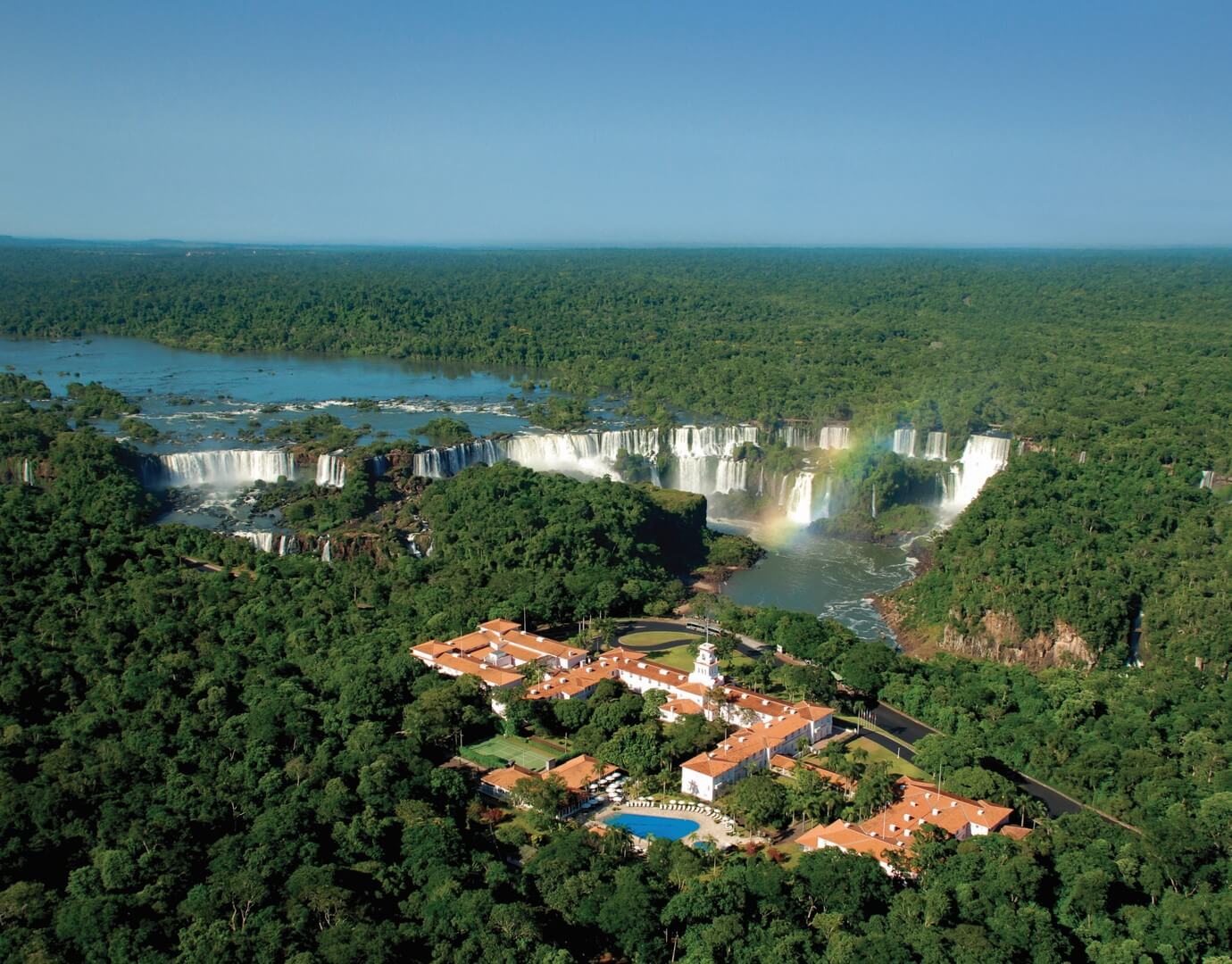 Fairmont Hotels & Resorts hold themselves to high standards when it comes to sustainability. Each venue has its own initiatives and actions to improve the environment and do their part to reduce the impact on the environment and Windsor Park is no exception.
One of the latest additions to the Fairmont family, Windsor Park has a lot to live up to when it comes to sustainability. However, even from demolition of the original building they have been dedicated to ensuring minimal impact on the environment and animals residing in the original building and grounds.
Here are some of their initiatives already in place –
• Spa and wellness partners are chosen because they are pioneering in their commitment to preserving the source and regeneration of sustainable materials.
• Spa consumables are selected to uphold their sustainability commitment. Their jute, coir and coconut slippers are made from the thickest and most resilient of all commercial natural fibres to reduce plastic waste.
• Herbs and plants are grown in the Kitchen Garden for use in the restaurants.
• They have two beehives on the hotel grounds, cared for by their own beekeeper. The honey production is then used in their restaurants.
• Where possible they are sourcing food locally from The Royal Farms and Windsor artisans.
• Bat boxes are installed in the brickwork and trees to home bats displaced by the demolition of the previous building. The demolition was overseen by an ecologist to ensure bats still in the building could be rehomed.
• They replanted more trees and vegetation than were removed during construction and only trees approved by the local authority were removed during demolition.
For a hotel only opened in January of 2022 they have achieved a massive amount when it comes to the sustainability of the venue. As part of the Fairmont group, they are certain to continue their CSR mission, becoming a true pinnacle of sustainability.
Windsor Park is a luxury wellness retreat putting sustainability at the forefront of its operations, making it the ideal getaway for some guilt-free indulgence.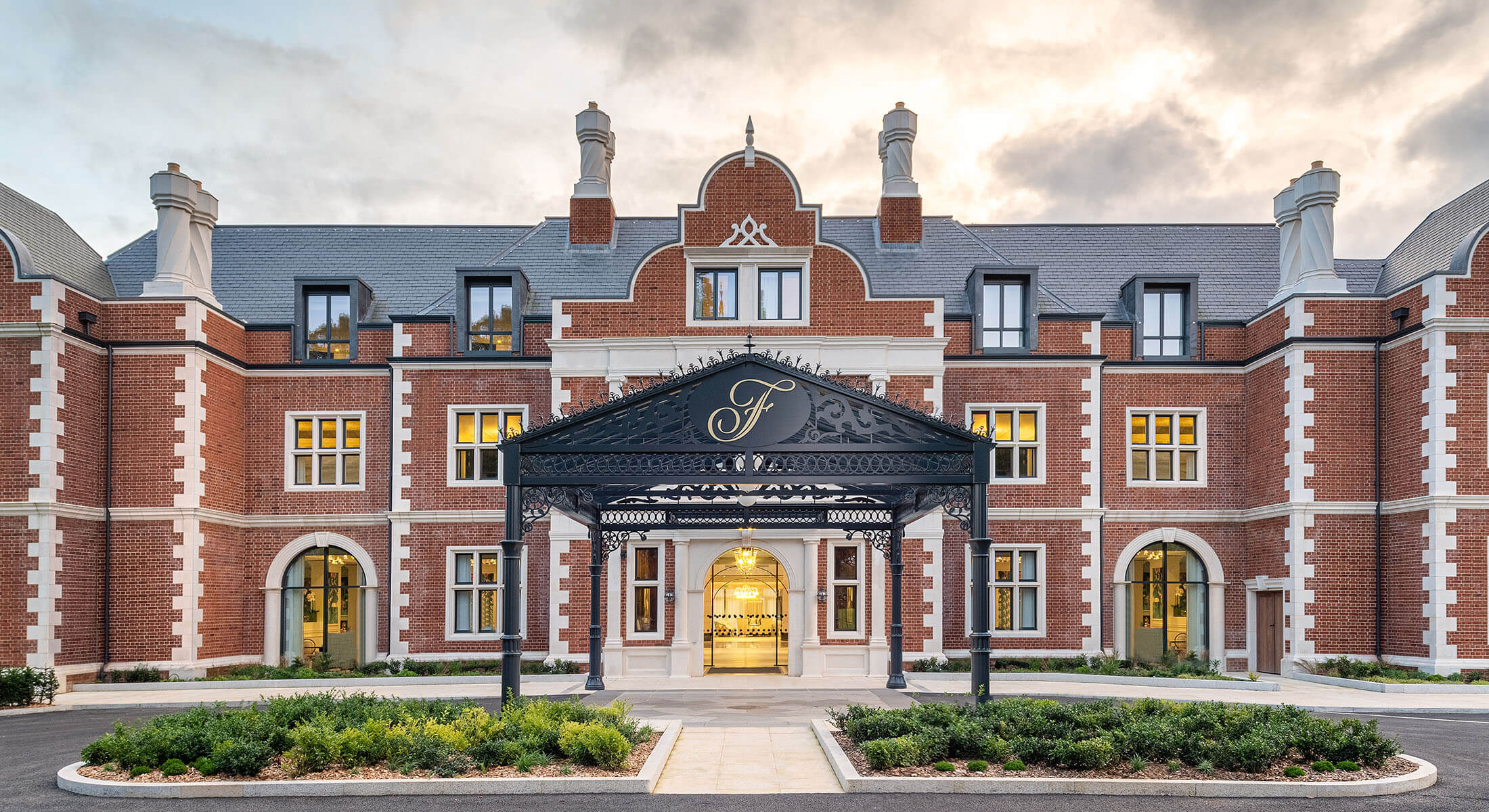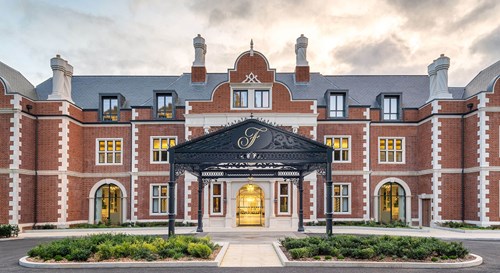 The Exclusive Collection is a group of luxury hotels and resorts spread across America, Europe, and Asia. They are committed to providing amazing experiences in a manner that ensures a safe and healthy place for their employees and guests whilst minimising the potential impact on the environment.
They strive to use pollution prevention and environmental best practices in all they do. By ensuring that they have an environmental champion in each property and at each level to upholding their sustainability policies.
Here are some of their initiatives already in place –
• Continue to enhance their 'grow our own' philosophy by investing and focusing on their kitchen gardens and commit to minimising food waste and recycling food waste into the kitchen garden as much as possible.
• Remove all single use plastic by 2023.
• Promote the use of British, local, and B Corp suppliers, producers, and manufacturers where possible.
• Maintain the purchase of 100% renewable electricity and continually work to reduce the amount of fossil fuel in their supply mix, in favour of biomass energy sources and other energy reduction devices.
• Promote efficient use of materials and resources throughout their facilities including water, electricity, raw materials and resources.
• Purchasing and using environmentally responsible products with particular emphasis on ensuring they purchase from environmentally responsible suppliers.
Their commitment to sustainability is shown through their initiatives and policies. They increase the environmental awareness among employees by educating and promoting them to work in an environmentally responsible manner, ensuring it is ingrained into the fabric of every property.
With venues across the globe, the Exclusive Collections offers a multitude of hotels and resorts, all dedicated to sustainability, perfect for incentives and events anywhere.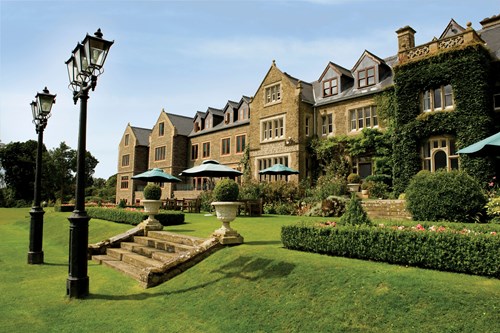 Radisson Blu 1882 Hotel, Radisson
In 1989, The Radisson Hotel Group was one of the first hotel groups in the world to adopt an environmental policy. Now with 238 Eco-labelled hotels they are industry pioneers in sustainability.
One of their latest hotels, Radisson Blu 1882 Hotel, continues that tradition, earning LEED certification as a Gold Green Building and Biosphere certification. Their philosophy extends into their dining as well where they have a philosophy to offer sustainable, balanced, and healthy gastronomy.
Here are some of their initiatives already in place –
• Invest in energy saving technologies and tools, develop environment friendly building designs, collaborate with owners and investors to invest in sustainability measures and engage and educate employees.
• A dedicated CSR neighbourhood project commitment.
• Provide food, shelter, and a better future for children and at-risk youths.
• During times of crisis local teams provide and serve meals and water, collect, and donate clothing, furniture, and other items.
• Support local communities in water scarce areas globally, by helping to provide safe drinking water, sanitation, and hygiene support.
• Partner with innovative companies that strive to provide clean, renewable energy from alternative sources.
• Automatically offset the carbon footprint of every meeting and event taking place at any of their hotels, at no cost to clients.
• Limit the use of water through technology improvements in rooms and operations, using rainwater and grey water wherever possible.
In addition to these practices from The Radisson Hotel Group, Radisson Blu 1882 Hotel is also home to more than 4000 plants. The El Bosc Terrace Bar features an 80m² vertical ecosystem of more than 3000 plants, capable of filtering 10kg of dust per year and generating enough oxygen for 80 people.
If your next event is in Barcelona, invite your guests to one of the most sustainable hotels in the city without compromising on style or form.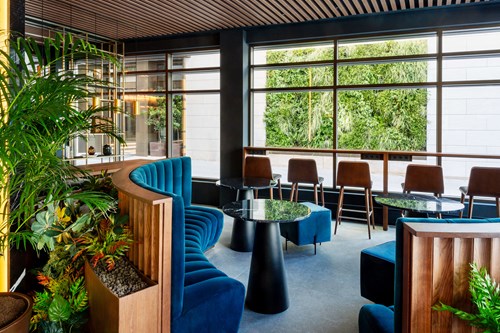 Magic Camps, represented in the UK by STAR Your World, are something truly unique to anything else on this list. This luxury camping experience transports guests to emulate the Bedouin nomads of the desert, who leave no trace on their environment. Magic Camps have encapsulated this, having incorporated sustainability and minimalism into every aspect of their camps.
They have adopted measures to respect the environment whilst ensuring maximum comfort for guests in the heart of the desert, allowing guests to live the Bedouin lifestyles, without giving up the conveniences of modernity.
Here are some of their initiatives in place at the camps –
• Eco amenities in bathrooms including soap, shower gels, and shampoo.
• Quad bikes and dune buggies are forbidden to preserve the authentic experience of the desert.
• Minimise the use of water and plastic as much as possible.
• Tents are made of canvas or Tentickle. All furnishings and decorations are made from natural materials such as wood, bamboo, jute, and cotton.
• Eco-friendly water recycling systems.
• Purified water is served from glass bottles, eliminating plastic waste.
• Dinner services and serving plates are made from porcelain, wood, or glass.
They aren't only sustainable in their nomadic approach to luxury camping, but also in their economic initiatives. Their dedication to using local products and local suppliers helps create jobs in the community and boosts the local economy.
Magic camps are the choice if you want to take your guests on a sustainable luxury camping experience of a lifetime.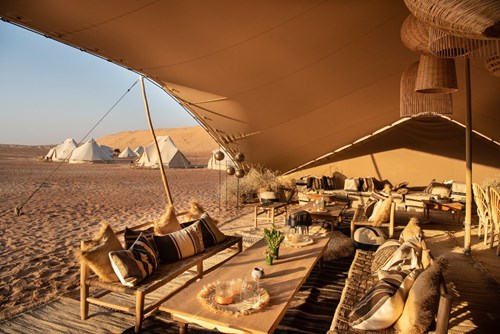 One Hundred Shoreditch, Lore Group
The One Hundred Shoreditch falls under the Lore Group and their sustainability practices. They subscribe to all 17 United Nations Sustainable Development Goals to work towards global climate agreements. All their policies and commitments are publicised through their websites and communicated to all stakeholders.
The One Hundred Shoreditch is in the process of establishing itself as a fully sustainable building, with plans to reduce carbon emissions by 66% by 2030. They are applying for BREEAM In-Use certification, further proof of their dedication to ESG.
Here are some of their initiatives already in place –
• Paperless office procedures
• All old uniforms upcycled
• Plastic free operation
• Digital in-room information
• Digital menus
• Digital reading materials
• Fabric masks for all staff – microbiology cotton
• Sustainable mattress solution
Their commitment to becoming a hub for the local community of Shoreditch is exemplified by their activities. They provide fully inclusive and developmental training programs for employees, as well as establishing partnerships with local charities to support the community.
One Hundred Shoreditch is a perfect hotel to stay with your guests whilst ensuring your stay in London is environmentally responsible.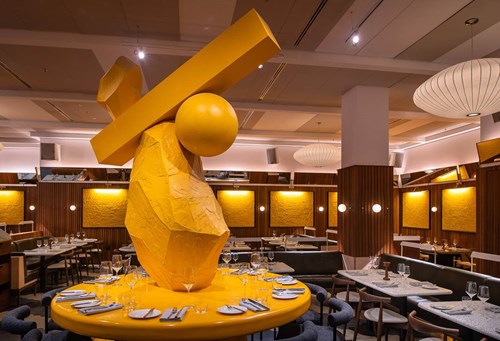 This isn't an extensive list of venues with CSR and sustainability at the forefront of their business operations, but it is a great starting point for consideration for your next event, incentive, or meeting. If any of these venues look like the perfect match for you, or you want to see other sustainable venues we can source, contact us now and our team will be happy to help.