The Best Rated Rooftop Bars in London
21 March 2022
Spring is just around the corner and there is no better time to get out of stuffy conference rooms and take your next corporate event outdoors instead. Well, not too outdoors just yet. At Inconnection we understand that comfort and style need to blend seamlessly to make any business conference memorable for all the right reasons. That is why we have complied a list of some of the best London rooftop bars available for group bookings and private hire to make your next event the best it can be.
Atop Sea Containers sits 12th Knot. Overlooking the River Thames and the world's longest public art commission, Illuminated River, this is the star of South Bank. As part of the Sea Containers hotel, its facilities are second to none. The rooftop terrace can host up to 300 guests and the space can be adapted to meet any business needs. A large selection of screens, projectors, and an impressive sound system makes a wide variety of event is possible at 12th knot. All to be enjoyed alongside your choice from the world's best champagnes or seasonal cocktails.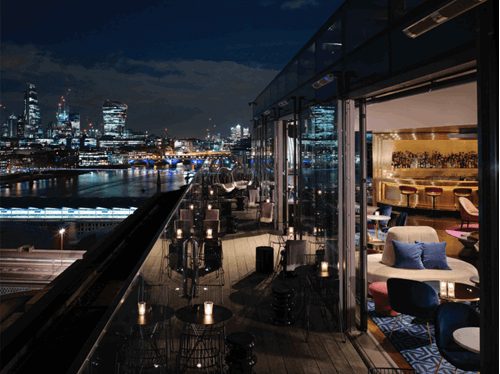 Sabine Rooftop Bar is a paradise hidden in the midst of the city. Situated just round the corner from St Paul's cathedral, this terrace will dazzle with gorgeous views of the city whilst keeping guests away from the hectic London streets. The tropical vibes of this bar won't be ruined by the British weather though, the Sabine has an area sheltered with glass walls and heaters, as well as an open-air section. This bar is a great pick with its amazing views, modern vibes, but all with that tropical twist.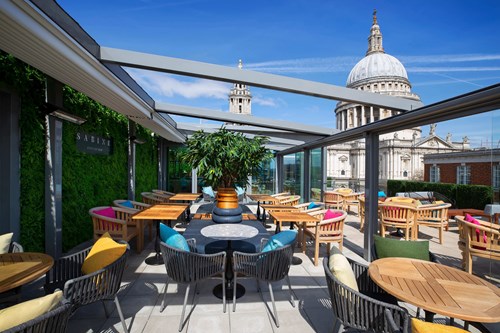 Golden Bee is the golden standard in Shoreditch. Only a short walk from Old Street Tube station this bar is ideally located in the trendiest part of London. This stylish bar is perfect for relaxed drinks and food or a more memorable night on the tiles with work colleagues. The bookable VIP area gives the perfect privacy and adds intimacy to any function. The Golden Bee is prepared for any weather with the terrace benefiting from heaters and a retractable canopy.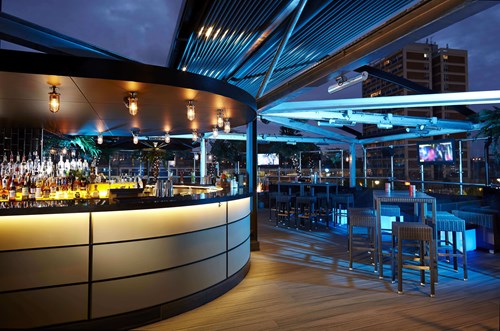 Jin Bo Law is a stylish bar set on the 14th-storey of the Dorsett City Hotel, just a few minutes from Aldgate East stop. This high-rise hotspot has perfect views of the shard, tower bridge, and more from its private terrace. The terrace does close if the weather gets too bad as its only protection from the elements are heaters, but they have an indoor area ready to serve from, including a bookable VIP area at the back of the venue.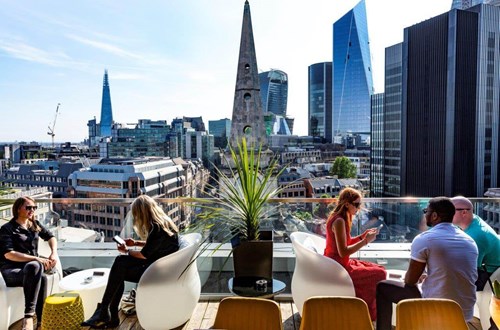 Just a stone's throw away from Waterloo station Bar Elba is in prime location. It is one of the largest bars on our list, Bar Elba has a capacity for over 600 guests on its expansive rooftop. This bar is a colourful and funky pick with a tiki grass roof and glass walls protecting it from the worst of the weather. Bar Elba regularly runs outdoor cinema screenings on their terrace, showcasing the breadth of events they can accommodate. But if films are not your style the mezzanine and terrace are great places to relax with a drink and some food.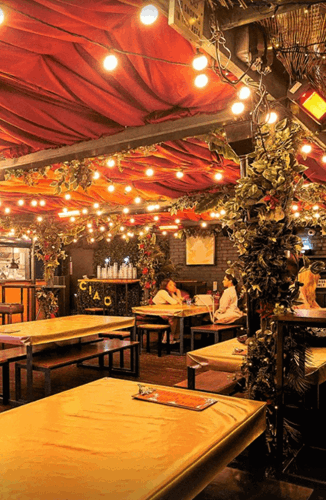 One New Change has earnt its reputation as a high-end shopping complex right in the heart of London, and Madison, the penthouse roof terrace of One New Change, is no different. One of the largest rooftop terraces on this list Madison can cater to a wide variety of events and regularly hosts their own screenings, classes, and more right above One New Change. The restaurant offers a range of American classics with a focus on grills and showcasing the best steaks available, all to be enjoyed on the terrace. Book Madison for the chance to enjoy your next corporate event with breath-taking views over neighbouring St. Pauls Cathedral.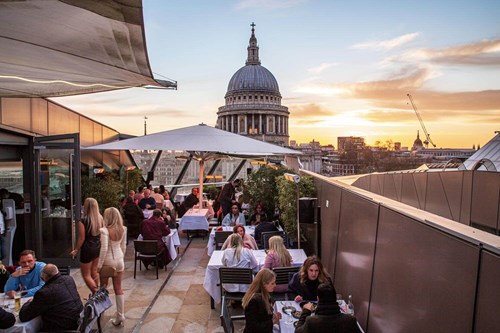 Willow on the Roof is one of the more diverse bars on this list. There is a wide range of seating options including - lounges, cabins, and pods all bookable in advance to suit your business needs. This gardenesque terrace is on top of John Lewis, within walking distance of the Oxford Circus underground. But if you need a larger group booking, they can accommodate for that as well, making this an ideal choice regardless of your event size.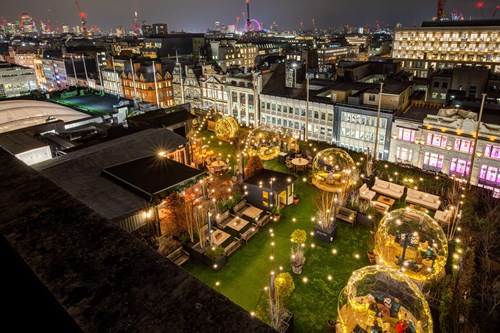 If you want your next event to be on the wild side, look no further than Savage Garden. They have a selection of different rooms and areas available for private hire, from more intimate setting to receptions for up to 380 guests. This opulent rooftop terrace is bound to leave a lasting impression with views of the iconic Tower of London. Their signature drinks really set them apart from the crowd with a wide variety of drinks you will not find anywhere else.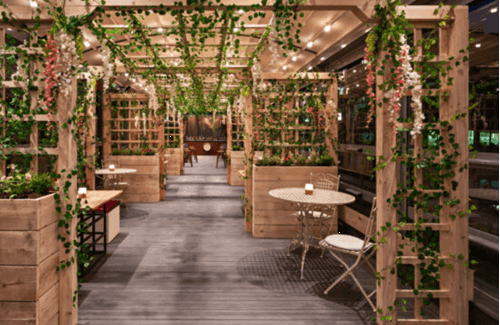 The Rooftop at the Hippodrome Casino
There is nowhere like London's West End and The Rooftop at The Hippodrome really showcases that. Spread across three floors, these rooftop terraces provide the perfect backdrop to any corporate event. All terraces benefit from cover and heating whilst still giving that open-air experience, without battling the British weather. With space for 150 guests this could be the site of your next business function.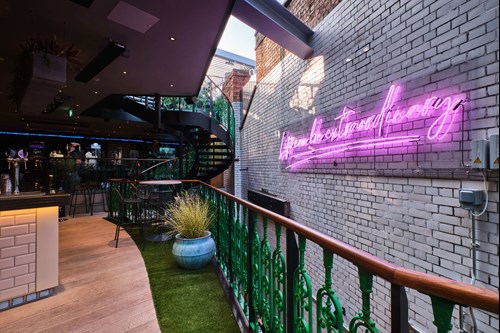 This is just a selection of some of the amazing rooftop bars available for group bookings and private hire across London. Not every venue will be ideal for your next corporate event which is why it's important to consider carefully what your goal is with your next conference or meeting. Our expert event planners and venue finders can turn your brief into an unforgettable event, so if you are struggling with where to host your next meeting contact us. We will handle everything so that you can sit back and enjoy the event.