Spotlight on... Tuscany Incentive Travel
24 June 2022
Italy is a beautiful country filled with amazing destinations like Rome, Venice, and Milan. We could spend hours talking about all the amazing experiences on offer around this gorgeous Mediterranean country, instead we have chosen to showcase the delight of Tuscany and its capital Florence.
Located in central Italy, Tuscany is a large region with beaches along its western coast, the Apennine mountain range stretching through it, and hundreds of historic towns and cities to explore.
Getting There & Getting Around
When travelling to Tuscany there are two international airports, and a few factors to consider when choosing the most suitable for you and your guests.
The Galileo Galilei International Airport in Pisa is the larger, handling flights from most major European cities, giving a wider range of times and departure locations to choose from. Its location in Pisa makes it ideal for transfers to beachside locations.
The Amerigo Vespucci Airport, as known as Peretola, in Florence, also handles flights from most major European cities but they are more infrequent due to its size. This airport is best to use when based close to Florence.
Whilst it isn't in Tuscany it's worth noting that the San Francesco d'Assisi Airport offers better access to the southeast of the region than either Florence or Pisa. However, flights are limited so not suitable for every event or occasion.
When flying from outside Europe, you may need to stop over at a different European city and then fly to your final destination, depending on what suits you best.
Weather
Due to the geography of Tuscany the weather can vary considerably depending on where you stay and when. The coast is hotter than the more mountainous areas, but the sea breeze helps even during the height of summer.
In Florence you can see average temperatures up to 31 degrees in July which is the hottest and sunniest month followed by August. April to June and September to October also provide great weather with only small chances of rain, whilst avoiding peak holiday season.
Outside of these months the temperature will be considerably cooler and wetter, so avoid November to March if climate is a primary concern for your event.
Where To Stay
Tuscany has some great hotels, including the following which we consider the very best for incentive travel and executive level business trips. All the hotels mentioned offer buyouts so are fantastic choices for partner events or group rewards.
Villa San Michele
If you want to see Florence without being right in the city centre, then Villa San Michele is perfect. Situated in the hills above Florence it boasts some of the best views of the iconic city, and less than a 30 minute drive from Florence and its airport makes it the perfect city retreat. It is an exclusive hotel with 45 rooms in total, ideal for smaller events and incentives.
Like all Belmond hotels you'll be surrounded by history and culture for the duration of your stay. The hotel is a renovated 16th century monastery which still encapsulates all the charm and beauty of the original building.
There is plenty to do at Villa San Michele which you can't do anywhere else. They run art installations throughout the year and currently have two pieces by Leandro Erlich on display, 'The Cloud' and 'Window & Ladder'. They also run a variety of experiences from tasting, to culinary, and even a trek to the hills where Da Vinci tested his flying machine. Being a Villa San Michele resident also gives your access to exhibits and rooms which are normally restricted from public access, including Pietro Porcinai's private archives.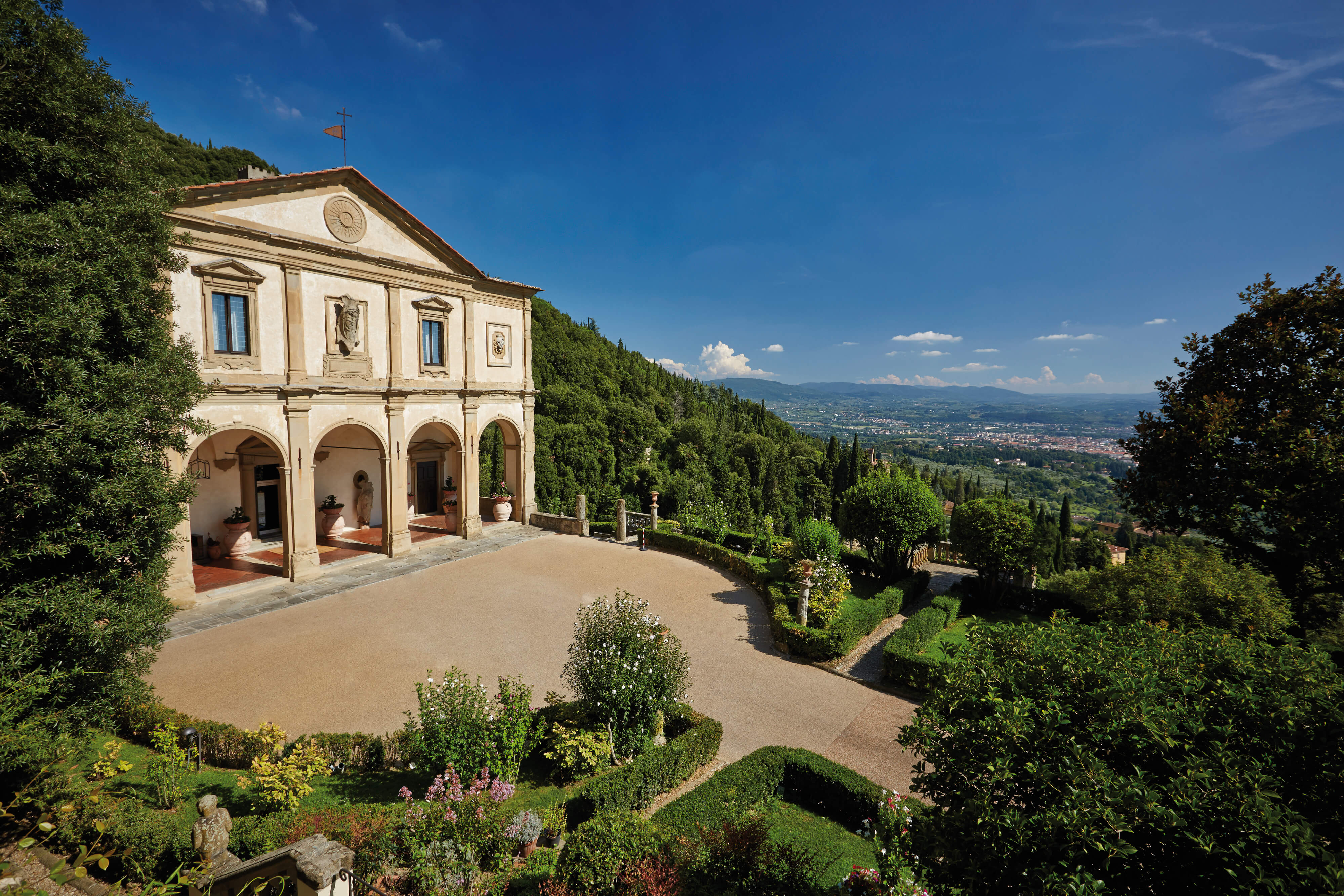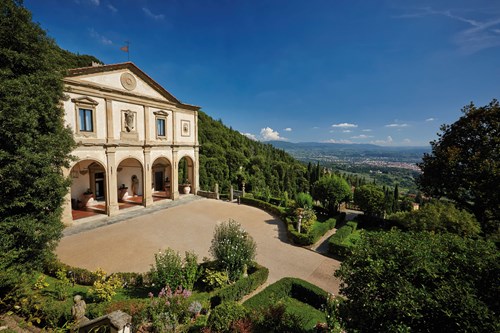 Fonteverde
If relaxation is what you are after you can't go wrong with Fonteverde. Situated on a natural mineral spring, this hotel has beautiful infinity pools filled with thermal waters, running at a balmy 42 degrees Celsius. It is also the largest on our list with 65 rooms and a range of suites to choose from.
With its remote location in San Casciano Dei Bagni, you and your guests can enjoy the tranquillity and rich history of the venue and spa town which is home to famous churches and the Palazzo dell'Arcipretura. The hotel itself has incredible heritage having been built from a Medici portico commissioned by Grand Duke Ferdinando I.
Being in the southeast of Tuscany the transfer from Florence, the closest airport, is roughly 110 minutes. There is the option of using Perugia airport when flying from London which reduces the transfer time to approximately 85 minutes.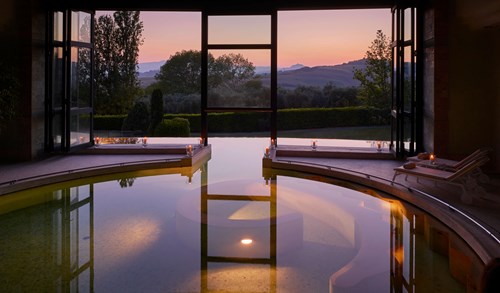 Castello di Casole
In the heart of the Tuscan countryside is Castello di Casole, the largest private real estate in Italy. This hotel is perfect if you want to combine the privacy of 4,200 acres of Italian hills and vineyards with a wealth of activities and experiences.
Included in the rich array of options, is truffle hunting with an expert guide, cookery classes using local ingredients, or stargazing in the award-winning skies above Castello di Casole. You can also look for the four Etruscan sculptures installed in the estate's grounds up until 14th November 2022.
Despite the secluded location the hotel is just a one-hour transfer from Florence and 90 minutes from Pisa. Castello di Casole is the smallest of our recommended hotels with a total 39 rooms and suites across the property.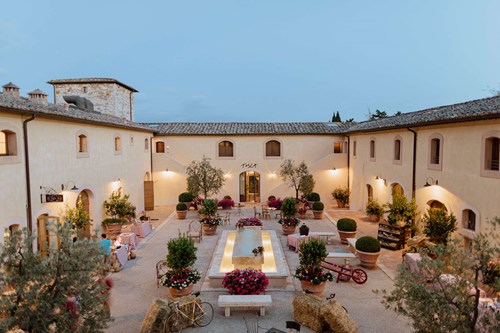 Where To Go & What To Do
Italy is filled with amazing experiences for you and your guests to enjoy including:
Wine Experiences
Italy is renowned for its wine and Tuscany is no different. There are thousands of different experiences to pick from and they all come with their own unique flare. Some focus on the tasting aspect, while others let you and your guests produce your own wine that'll be shipped to you once it's matured, or if you want something more active you can try a horseback riding wine tasting tour.
Sightseeing
This is something that can be experienced no matter where you are in Tuscany which is filled with its exquisite history and heritage architecture including our featured hotels. If you want something more organised many of the hotels have tour guides ready to show you and your guests the local sights.
Truffle Hunting
If you are in Tuscany during the Autumn it's well worth booking some truffle hunting. Whilst not as revered as the truffles of the Piedmont region, Tuscan white truffles are considered just as impressive by many experts. The best areas for this are Siena and Pisa but it's popular all over the region.
Explore The Countryside
The history is great, but Tuscany is filled with some of the most beautiful hills in Italy with endless opportunity to explore. Whether you strap on your walking boots, rent a bicycle, try horseback riding, or even quad biking, there are options to suit any group. If it takes your fancy, there are even options for wine tours on quad bikes!
Cookery Classes
Italian cooking is famous worldwide and has had a heavy influence on western cuisine. So, treat your guests to an experience they can take back home with them by getting involved in a traditional Italian cooking class. Guided by local experts you can learn how to make the perfect pizza or roll pasta like a pro.
Spas
Tuscany has the best thermal spas in all of Italy with hundreds of natural springs for your itinerary. If you and your guests need some downtime, book a trip to a wellness retreat to enjoy the temperate waters and rejuvenating atmosphere.
What To Eat & Drink
Italy is filled with amazing delicacies but if you are visiting Tuscany, it's worth trying some of the local cuisine to make the most of your stay. Here are some of our favourites.
Bistecca alla fiorentina
This T-bone steak is a cut from the loin of a young steer, typically a Chianina. This thick cut is generally 3 to 6 cm high and between 1 to 2 kg. It is cooked over a coal grill and takes on the flavours from the charcoal. If steak is something you enjoy, don't miss out on the bistecca alla fiorentina.
Castagnaccio
Castagnaccio is a traditional autumn cake made with nuts such as chestnuts and pine nuts, raisins, and sometimes other herbs or dried fruits. Whilst it might be a great autumnal treat it can be enjoyed all year round as either a warm or cold dessert.
Potato tortelli
If you are in Florence then potato tortelli is a must. This potato and cheese filled pasta is a staple of the capital, and commonly paired with rich, gamey, sauces or ragus.
Panzanella
The perfect dish to enjoy under the hot Italian sun panzanella is a salad combining the most iconic Italian produce. Bread is mixed with tomatoes, onions, basil, Tuscan olive oil, and balsamic vinegar, served cold in a large dish. Variety is the joy of this dish and many of the ingredients can be interchanged with each other to suit your preference, or what's left in the fridge!
Biscotti di Prato
If you like a good biscuit, you can't go wrong with biscotti di Prato. These hard biscuits are sweet with nuts, either almond or pine, and perfect for dipping in espresso or a dessert wine like Vin Santo.
Extra Virgin Olive Oil
We don't recommend drinking it straight but if you are in Tuscany then it's worth picking up some of their world-famous olive oil. Tuscan olive oil is known for its fresh fruity flavour and recognised as one of the healthiest and highest quality olive oils available in Italy.
A World of Choice
As you can see, Tuscany is a region with a wealth of opportunities great for incentives and rewards. With the idyllic weather from April through to October, it is great for summer getaways or avoiding the crowds by travelling in the Spring or Autumn. So, whether you want to dip in the thermal spas or try your hand at cooking traditional Italian cuisine, Tuscany can offer it all. If you want to talk to us more about your own Tuscan getaway, contact us now.