Spotlight on... Thailand
18 September 2023
Thailand has so much to offer as an incentive destination and the options are endless. Reward your team with a city break to try the diverse street food and vibrant nightlife or get away from it all with a retreat to the pristine beaches and a tour around the extraordinary temples.
Why choose Thailand as your next incentive destination over other options?
In this destination spotlight we will guide you through the best hotels to stay at, show you the activities that'll really add that wow-factor, and all the other essential information.
Getting There & Getting Around
When considering your travel to Thailand, your departure airport will have a large impact on your journey. If you choose to fly from London, you can fly directly to Bangkok with an average flight time of 11h 30m. However, from Manchester flights will need to stop at Vienna or Munich airport to refuel, with the total flight time on average of 12 hours 15 minutes.
Where to go in Thailand?
Bangkok
Is known for ornate shrines and energetic streets, with attractions ranging from the opulent and revered Grand Palace and sacred temples such as Wat Pho, through to lavish shopping malls and peaceful boat trips.
Chiang Mai
Often referred to as the Northern Capital with numerous temples, and plenty of natural attractions such as Pongyang Jungle. Boasting a more down to earth option compared with Bangkok with its rich history and plenty of green spaces, Chiang Mai is ideal for lovers of both culture and the great outdoors.
Phuket
Popular for its white sandy beaches and serene islands, such as Koh Samui, and Krabi. Many visitors enjoy boating or snorkelling adventures in the crystal-clear waters, in particular in areas around the stunning Similan Islands and Koh Tao are massively popular.
Pattaya
A city on Thailand's eastern Gulf coast famous for its the 3km stretch of golden beach that stretches along the coast. What used to be a quiet fishing village in the 60s is now lined with resort hotels, high-rise condos, shopping malls and plenty of night life options. For those who enjoy golfing, there are several designer courses, some even sporting views across the Pattaya Bay.'
Weather
The best time to visit Thailand is during the cool and dry season between November and early April, as the temperatures range from 29°C to 34°C. Making it a great sunny destination when Europe will be experiencing cooler weather. Outside of these months, Thailand has its rainy season called 'monsoon season' which spans between July and October, and it is best to avoid during this period.
Where to Stay in Thailand?
Hard Rock Pattaya has something for everyone. The hotel features a 2,00 square metre free form swimming pool, sand beach pool with private cabanas, plus the Rock spa and fitness centre.
When it comes to meetings and events, the Hard Rock Hotel has a range of spaces including, two smaller adjoining rooms. Their newest addition is the Drum Room that offers panoramic views of the iconic Pattaya Bay. They also include the option to hire the pool side deck and add that extra wow to your event.
The Hard Rock Hotel can also offer a range of onsite team building activities to include into your itinerary such as:
Boat box
Wanake game
Synchronised swimming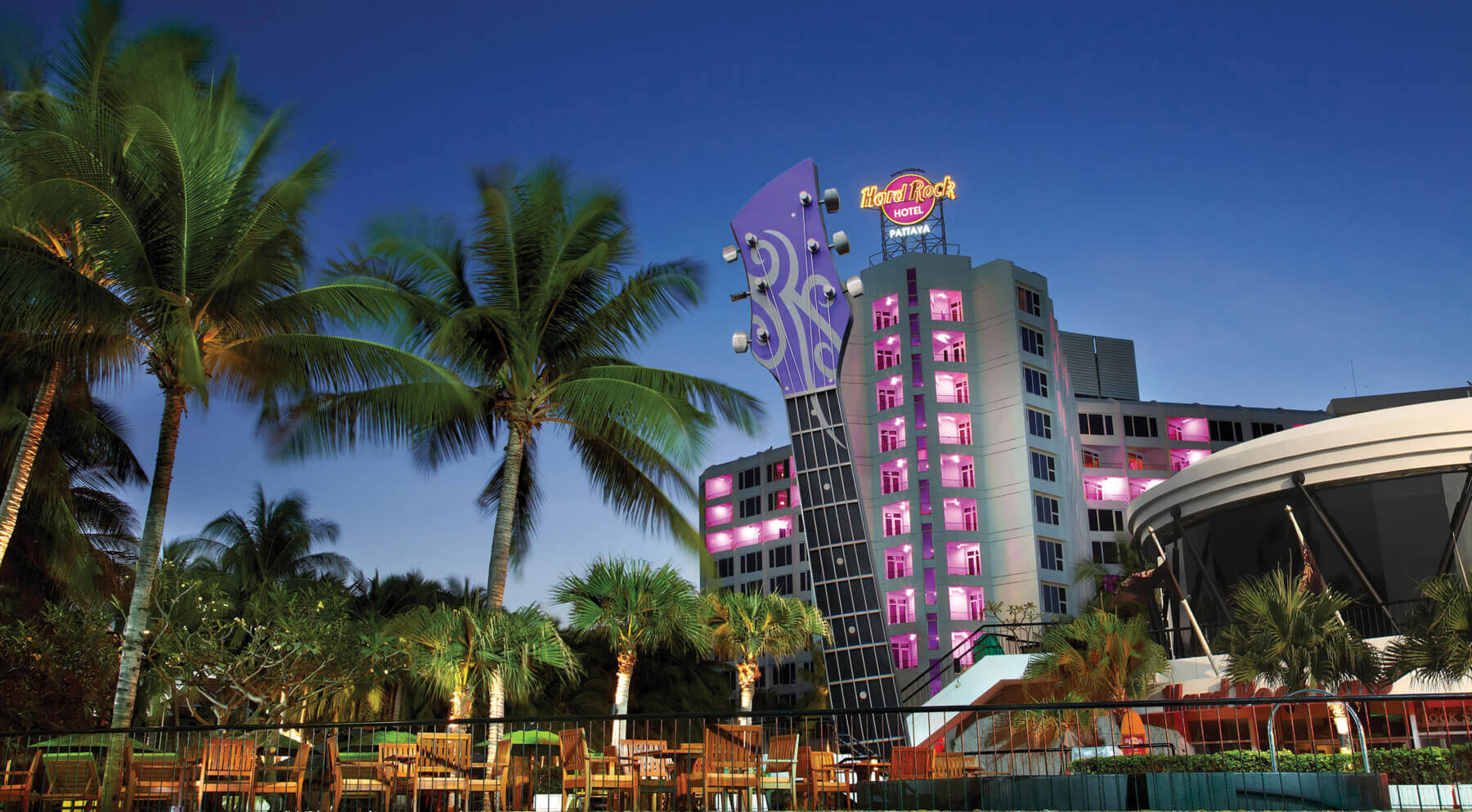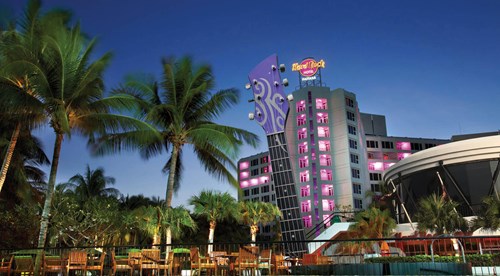 Overlooking Bangkok's magnificent Chao Phraya River, Avani Riverside Bangkok Hotel is a soothing retreat in the heart of the city.
Avani has its own infinity pool making it one of the best viewpoints that overlooks Bangkok's skyline.
This haven hosts 20 meeting room with multifunctional design making them perfect for intimate meetings or large-scale events that are multifunctional. Impress your guests with stunning rooftop conference rooms or go full our in the banquet hall.
Voted one of the best new hotels in Conde' Nast Traveler Hot list 2023. This luxury hotel displays, immersive designs and a whole host of facilities such as a penthouse, a terrace pool, meeting rooms, and a range of bars. The Standard is equipped with 4 meeting rooms all with an exquisite design. Alternatively, invite your guest for an evening of stunning view and fantastic cocktails at the Sky Beach rooftop bar, perfect for taking in the breath-taking city views of Bangkok at night. Then dance the night away as the Sky Beach Bar becomes a stage for world famous DJ's once the sun sets.
Explore these meeting rooms with a virtual tour.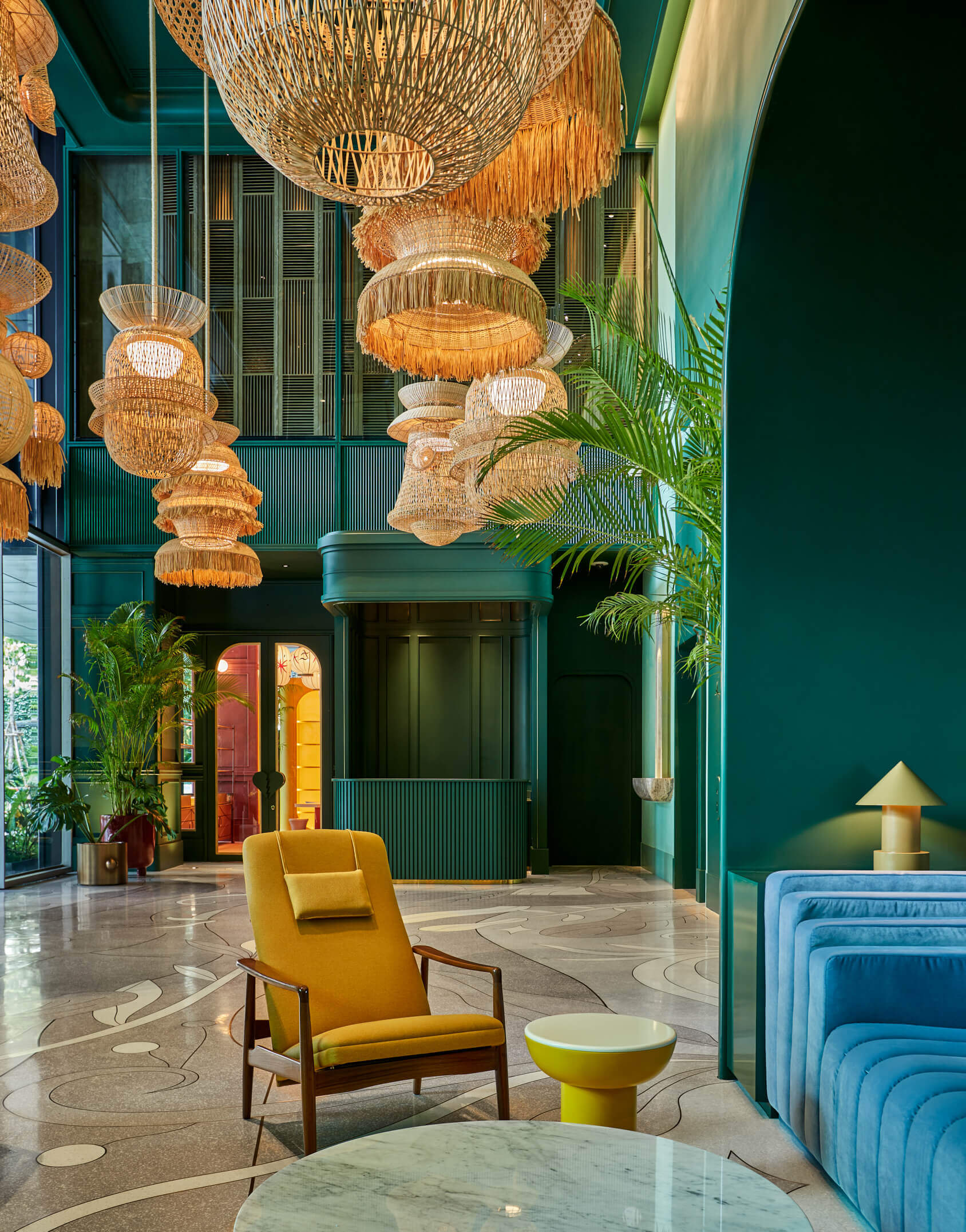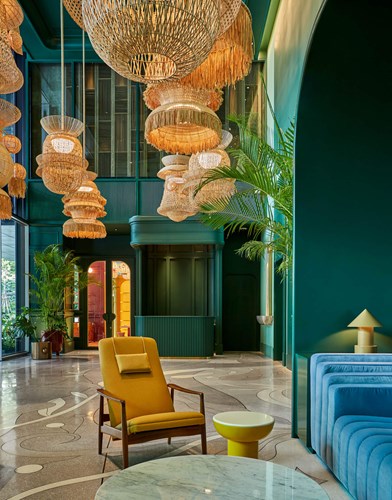 Akyra Manor Chiang Mai is an intimate hotel offering 63 rooms for guests, comprising 32 Deluxe Room, and 23 Premier Suite.
When it comes to event spaces this hotel luxury hotel also offers an exclusive function room, with an elegant and sophisticated design and gorgeous terrace. With a capacity of 20 to 40 guests, this venue is best reserved for high-level meetings and events.
Banyan tree hotel in Phuket is a private paradise. This resort offers luxurious all-pool villas nestled around a lagoon and surrounded by lush greenery.
Banyan Tree also offers 4 meeting rooms with rooms range from 50 standing to 400 standing, perfect for conferences, before retiring to your room with a personal relaxation pool to whisk all your cares away after an intense day of meetings.
What to do in Thailand!
Temple of the Emerald Buddha, Bangkok
Immerse yourself in the rich history of Thailand by visiting Wat Phra Kaew, commonly known in English as the Temple of the Emerald Buddha is regarded as the most sacred Buddhist temple in Thailand. Take a guided tour through the temple and discover the significance of the resident statues and its cultural impact. As a sacred place, it is important to remember to dress appropriately and follow any other relevant customs throughout your visit.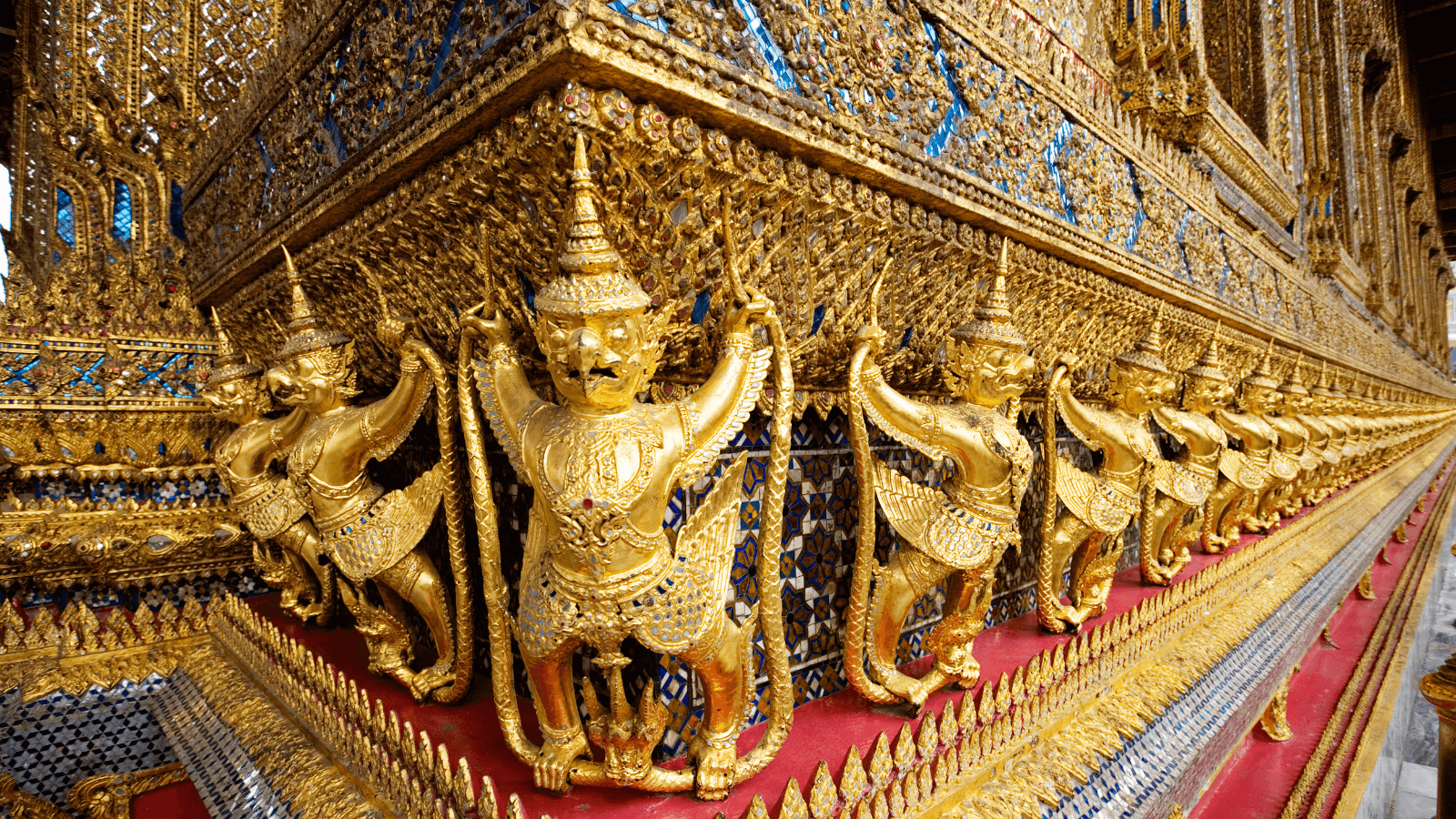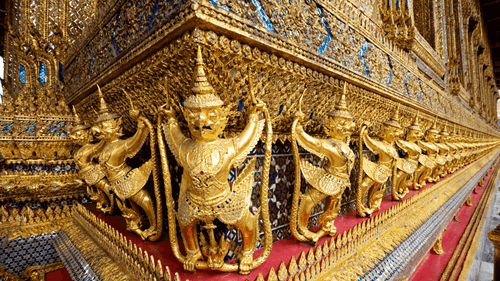 White Temple, Chiang Mai
Wat Rong Khun or White Temple is a truly unique temple with its standout white colour and the intricate use of glass throughout the building. The temple is best viewed in the height of summer on a clear day when the glass in white plaster will be at its most magnificent. The temple sparkles in the sun. Wat Rong Khun's white colour signifies the purity of the Buddha, while the glass symbolises the Buddha's wisdom and the Dhamma, the Buddhist teachings. Taking a visit to the White Temple could provide a new insight for your delegates or partners during your next incentive trip.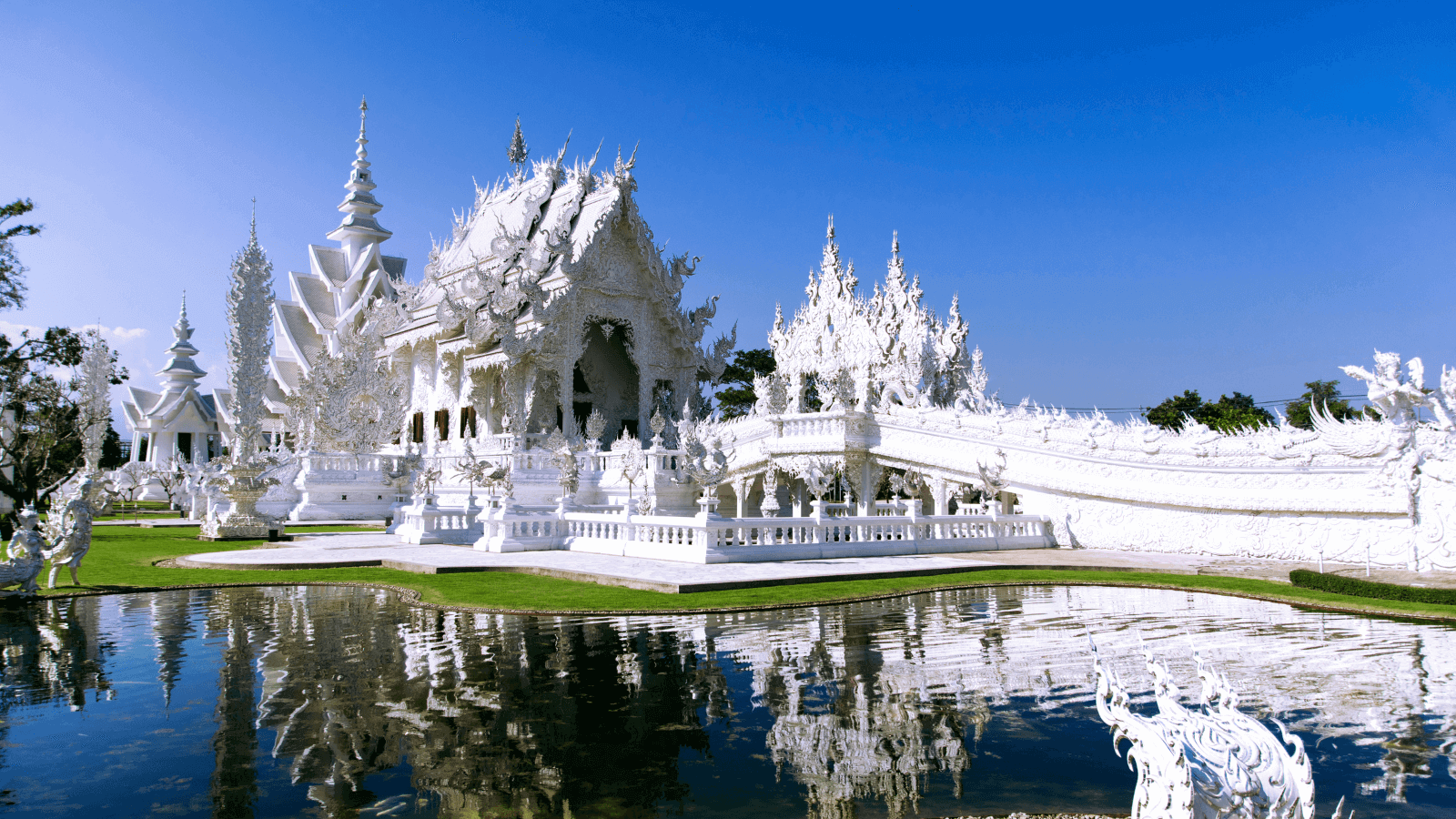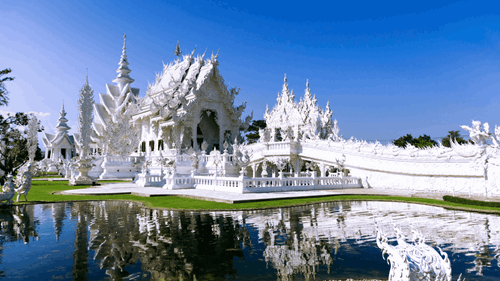 Phi Phi Islands Adventure Day Trip
Take a trip through amazing Phi Phi islands. You and your team could easily spend an entire day exploring the different islands and reefs. Whether you want to hire a private boat or try our kayaking, snorkel in the beautiful waters, or just relax in the picturesque scenery.
Elephant Nature Park in Chiang Mai
Enjoy a full day visit to Elephant Nature Park. Start your visit to the nature park with a picturesque drive through rural countryside whilst your drive relays personal stories of rescued elephants. Then walk with the nature parks staff to see the majestic elephants splashing around in the river. Whilst water on enjoy a sumptuous buffet of Asian and international dishes.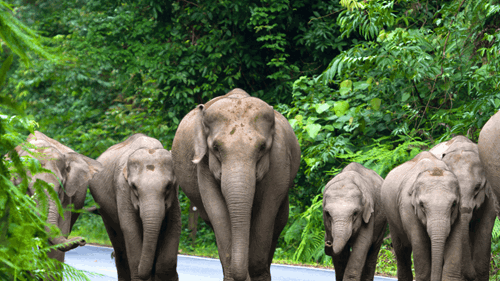 Pattaya Landmark Tours
Let your guests explore the highlights of Pattaya and all the must-see attraction the city has to offer. Start your tour with the Wat Phra Yai, the Big Buddha Temple, before taking in the neon signs of Walking Street. After that hop on a boat and experience the floating market first hand, from their head up to the best viewpoints over the city and coast.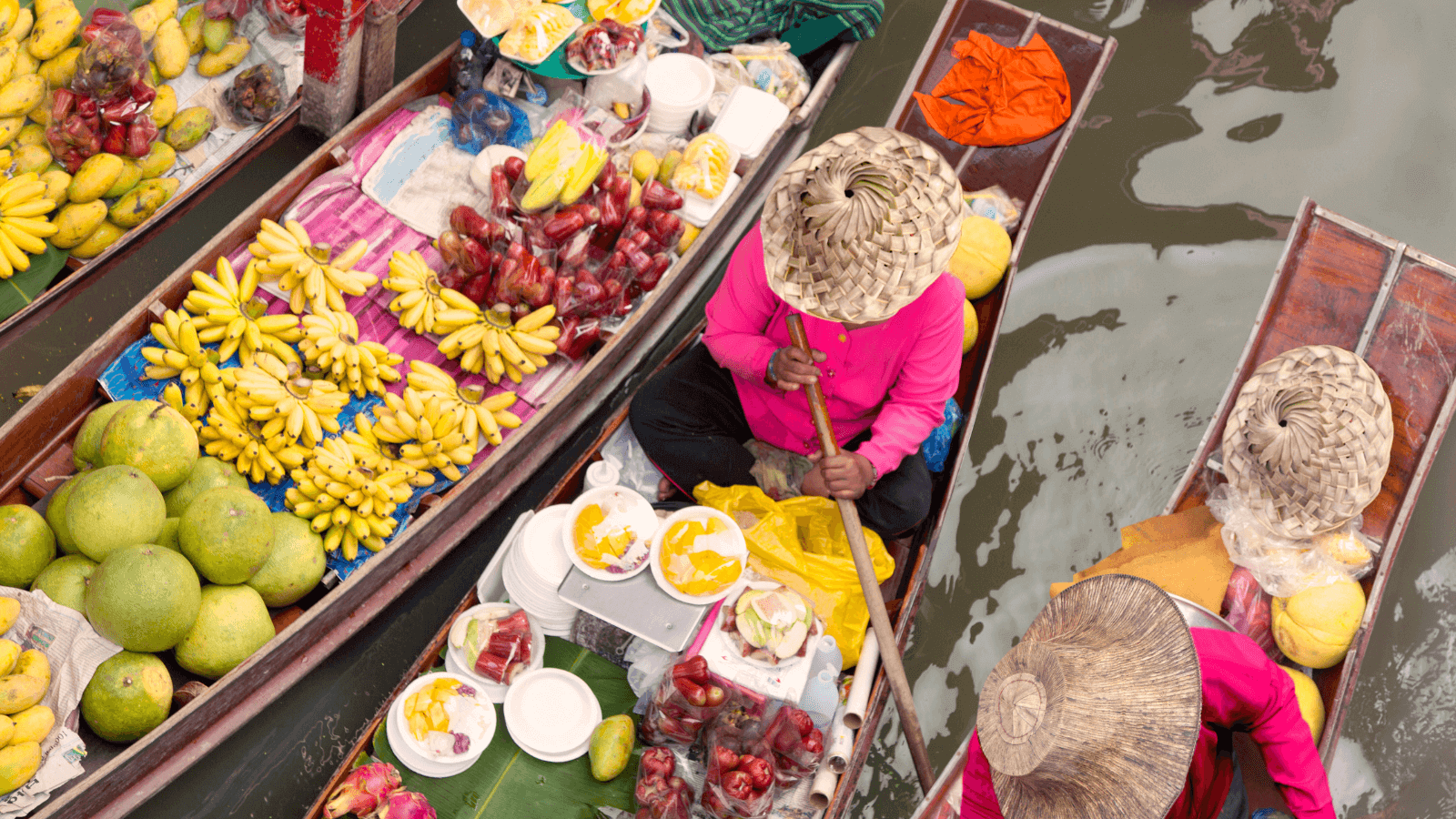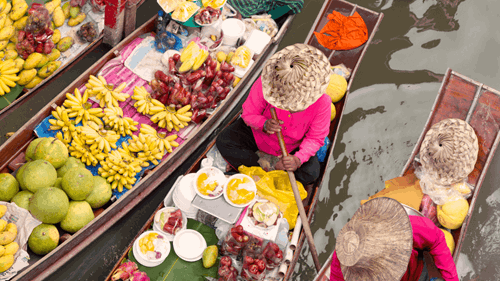 Whale and Dolphin Spotting
The sea surrounding Thailand are filled with some of the rarest and most majestic animals. Take a private tour to spot dolphins and whales in their natural habitat or try snorkelling and get up close and personal with the array of colourful fish that fill the coral reefs lining the coast.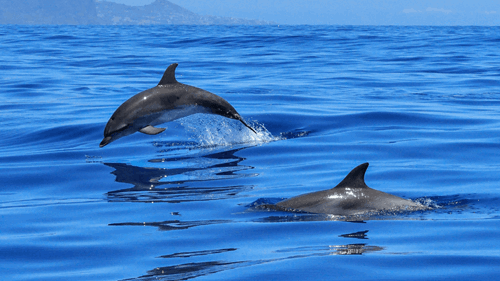 Whitewater Rafting and ATV Adventure
Experience the Chiang Mai jungle with an exhilarating tour that combines off-road ATV adventures with whitewater rafting the Mae Taeng River. This is a great experience to get your sales team energized by driving through the jungle and then tackling the Mae Taeng River's energetic whitewater rapids.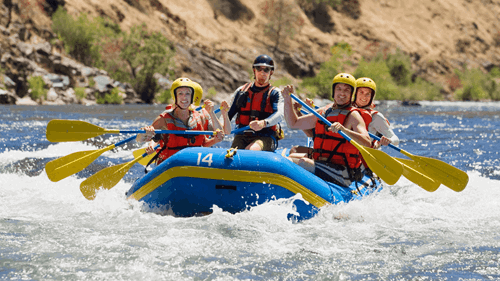 Siam Paragon
This upscale shopping complex in Bangkok, has high-end luxury brands and even luxury car showrooms under one roof, perfect for top-level delegates and those in the motor sector. When it comes to food, the Siam Paragon is equipped with a food hall and gourmet market, where you can find fresh from the farm goods as well as an array of Thai and international food. The shopping complex also has a number of great attractions including, Sea Life Bangkok Ocean World, a Mega Cineplex, and Madame Tussauds Bangkok Which make great additions to any itinerary.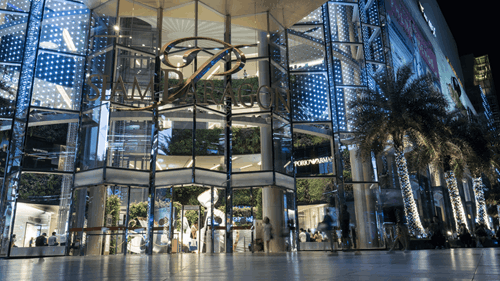 What to Eat?
Thai cuisines are usually lightly prepared dishes with strong aromatic components and a spicy edge. You'll find many deep-fried, stir-fried, or steamed dishes available, with regional variation available throughout the country.
Here is a selection of some popular Thai dishes to try during your stay.
Starter, Laab
Laab is a northeastern-style salad with a hefty kick of spice made typically with pork and mint. Originating from the province of Istan, you can find various styles of Laab throughout Thailand with options such as chicken, beef, or mushrooms.
Main, Pad Thai
This satisfying stir is popular across the globe, but nothing will compare to enjoying truly authentic pad Thai. Made with rice noodles, prawn, egg, and topped with crushed peanuts it's a refreshing but filling option for lunch or dinner. The sweet tangy sauce combines tamarind, chillis, garlic, and lime to give a unique flavour combination.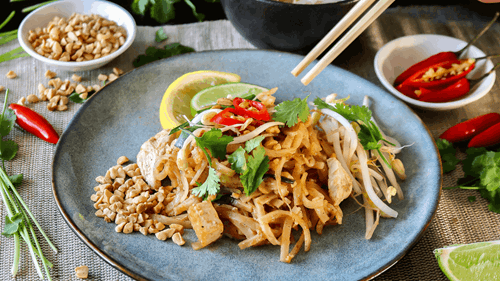 Main, Guay Teow
Guay Teow is one of the most popular Thai dishes and can be found almost everywhere. Guay Teow is a type of noodle soup and can include chicken, pork, or beef as well as either rice noodles or egg noodles. This dish can be topped with sugar, dried chilli peppers, lime juice, and fish sauce.
Desert, Khao Niao Mamuang
Khao Niao Mamuang, Mango Sticky Rice, is a simple desert of sliced mango served with steamed sticky rice mixed with sweet coconut milk. This desert focuses on the freshness and ripeness of the local fruit.
Desert, Rolled Ice Cream
Rolled ice cream has been increasing in popularity but it originates from Thailand. Coming in a variety of flavours, from fresh, local fruits to chocolatey sweets and treats. This is a must try for anyone with sweet tooth.
No matter where you chose to stay in Thailand you can be assured to have a wonderful stay with plenty to explore from its rich culture, crystal beaches, and exquisite food.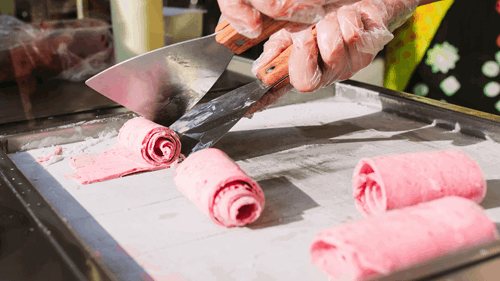 If your company is looking to for an unforgettable incentive trip, Thailand might just be the destination for you. Click the button below to talk to one of our expert team to discuss where your team could be jetting off to next.