Spotlight on... Sri Lanka Incentive Travel
25 April 2022
We were recently invited by Mags Worldwide and Distant Frontiers, to explore everything Sri Lanka has to offer, and offer it does! It got high praise from our events and incentives project manager, saying it's the best thing she's ever done. Following our visit, here is an insider's guide to the best hotels, activities, and so much more in Sri Lanka.
At its heart Sri Lanka is an incentives destination. It's probably best to avoid bringing the whole company though as Sri Lanka shines brightest for smaller groups of up to twenty guests, although many of the activities and hotels can cater for larger groups if required. It is also a great destination for employees to bring along their loved ones, giving them the opportunity to share an unforgettable experience on an unforgettable island.
Let's get into the details of Sri Lanka as a destination.
Getting There & Getting Around
When it comes to getting to Sri Lanka there are a few options and what's best will depend on you and your guests. There are direct daily flights to Sri Lanka but only from London, Sydney, and Melbourne. If you aren't lucky enough to be close to any of these areas (or don't fancy travelling) there are other options though. There are plenty of one stop flights from airlines such as Emirates, Etihad, Qatar, and many more.
Once you touch down in Bandaranaike International Airport in Columbo there is a variety of transportation choices for travel within Sri Lanka.
In some situations, it's beneficial to use the domestic flight service, Cinnamon Air, to fly to one of the non-international airports. This can greatly reduce travel times if your destination isn't close to the international airport. You may find you still need to drive to reach your destination following your flight.
The expressways of Sri Lanka have greatly improved meaning that transfer times from the international airport to much of the southern coast have reduced. In most circumstances driving will be the fastest option between the airport, hotel, and any activities you and your guests have planned.
The alternative sacrifices time for luxury, and that is the Viceroy Heritage Train. Available on a chartered only basis, this train gives you and your guests the option to travel in style. Choose your route and be taken on an unforgettable journey through gorgeous Sri Lankan countryside. The Edwardian locomotive comprises two air-conditioned lounge cars, restaurant, and bar car. The option of breakfast, lunch, or high tea takes the trouble out of negotiating food and travel. The Viceroy has a capacity of 88 with the option to add another carriage, increasing it to 112 in total. However, the third carriage isn't connected to the first two but still has all the same facilities, such as bar, music, and masseurs.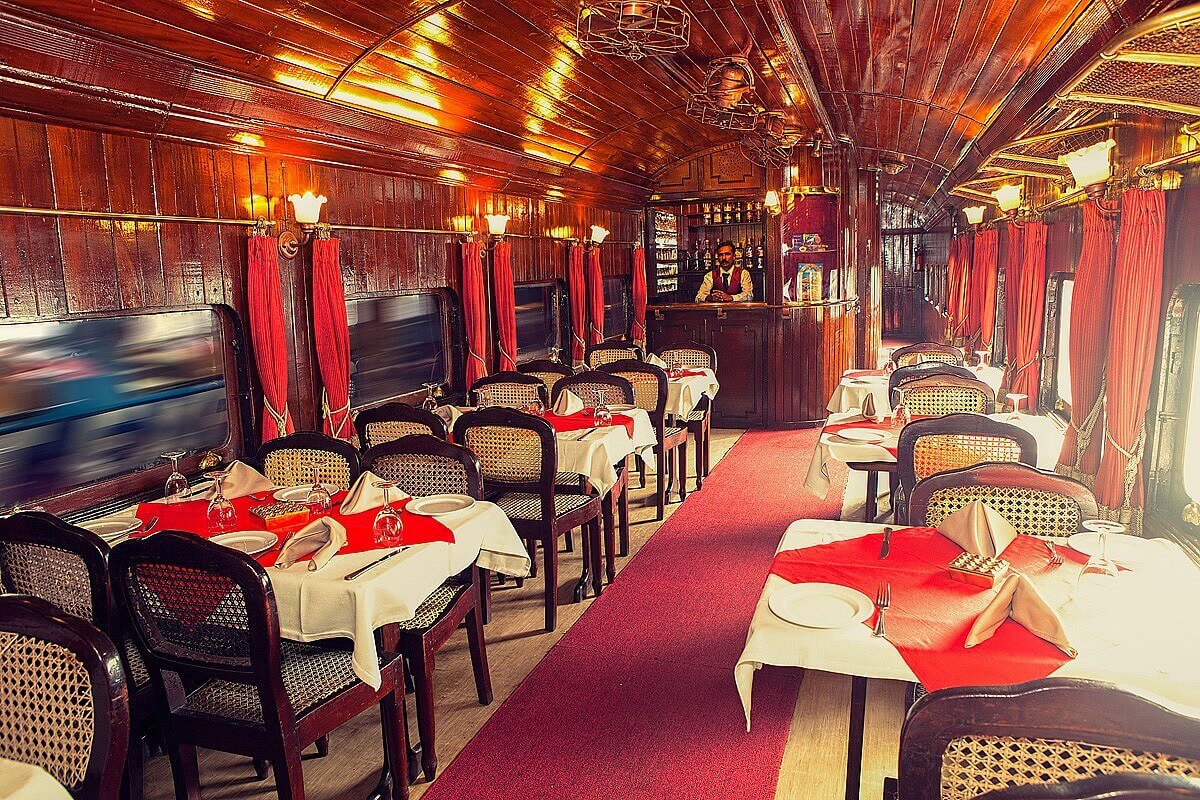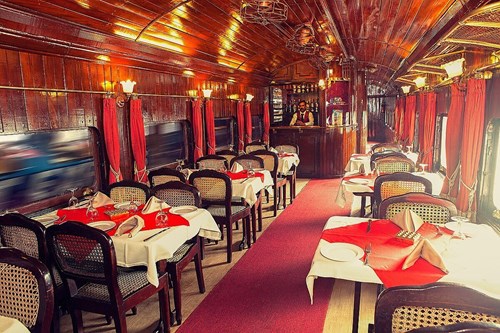 For shorter rides, the tuk tuk is the way to go. They are capped at 40k/m but do well on roads outside the expressway, allowing for greater freedom. If you fancy driving a tuk tuk yourself, there are places to rent them if you have the necessary licence, adding to your Sri Lanka experience.
Where to Go & What to Do
When it comes to what to do in Sri Lanka the options are endless. There are activities to do all over the island that you'll be spoilt for choice, and what we list here isn't an exhaustive list. Something we would recommend is to consider where you will be staying and what incentives can be done in the area to avoid long travel times between your hotel and your planned activities. Let's jump into some of the experiences you and your guests could be taking part in.
Cinnamon Experience
Sri Lanka is renowned for its cinnamon, especially Ceylon Cinnamon which is indigenous to Sri Lanka. You can take your guest to a cinnamon plantation to learn the rich history of cinnamon, the trade during the Dutch era, and how cinnamon is grown and harvested. This activity is ideal for groups up to 40 guests, but for larger groups it can be run in rotation.
Turtle Hatchery
You could give your guests the chance to be part of something truly special by visiting a turtle hatchery and help release baby turtles. Sri Lanka is a pioneer in sea turtle conservation and your guests can learn why Sri Lanka, and Kasgoda in particular, is the perfect turtle nesting site. Your guests will get the opportunity to meet day old baby turtles, learn more on Sri Lanka's part in sea turtle conservation, and why conservation is needed. Finally, top off the magical day by helping to release the baby turtles at sunset.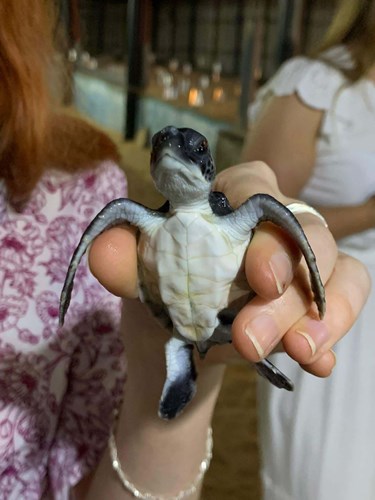 Local Cooking Experience
There are so many amazing delicacies to be enjoyed in Sri Lanka that your guests will fall in love with. Whether it's the unique stir fry, kottu, or the morish bread, roti, there are so many exquisite dishes to chose from. That's why a local cooking experience could be the ideal experience, letting your guests get a true authentic experience they can replicate at back at home.
Tea Experience
There are many tea estates across Sri Lanka. However, the Handungoda Tea Plantation we had the pleasure of visiting is the only tea estate in the coastal belt of Sri Lanka specializing in 'virgin white tea.' Virgin white tea is the rarest type of white tea, and your guests could get insight into the tea plucking, a tea factory tour, and finally a tea tasting, along with enjoying some fascinating stories from the owner Herman about his ancestorial land. The capacity for this activity is 50 guests.
Batik Painting
Batik painting is a unique dying technique popular in Sri Lanka, where wax is applied to cloth before dying to create beautiful contrasting designs once the wax is peeled away. You can take your guests to visit a batik factory and see local artists designing batik sarongs, before having a go at creating their own designs under the supervision of a batik expert.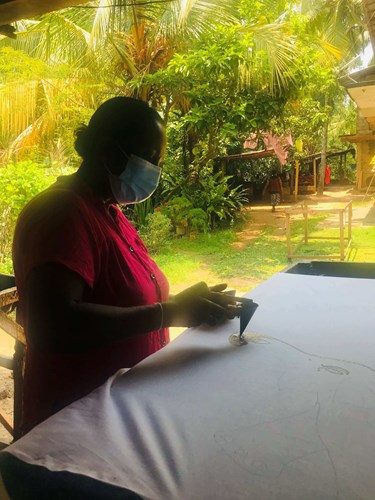 Visit Galle
The town Galle is a fantastic area to explore. The historic location was originally a seaport but faced colonisation first from the Portuguese and then later the Dutch, during this time the famous Galle Fort was built and is a world heritage site to this day. There is plenty to do in Galle, whether it's exploring the shops and boutiques, or climbing the famous ramparts to enjoy a cocktail, there are so many options available.
Tuk Tuk Polo
Another activity to experience in Galle is – tuk tuk polo! This one is so exciting it needed its own section separate from Galle. The humble three-wheeler gives us a unique take on the classic game of polo. With a maximum of 8 tuk tuks taking to the field as once, split across two teams. Each three-wheeler will have one player plus the driver, and players will have to coordinate with their team and the driver, aiming to score the highest number of goals.
Whale and Dolphin Watching
Not many people can say they have seen wild whales and dolphins up close and personal. Sri Lanka is rated as one of the top ten places in the world for whale watching, with up to ten different species of whales and a plethora of dolphins enjoying Sri Lankan waters. Hire an exclusive catamaran with a capacity of 25 per boat and set sail to see blue whales and more. Timing is key with this activity with the best months being between late November to Late April and setting sail early in the morning for the best chances to see whales and dolphins. Breakfast can be offered onboard, featuring a mini continental with champagne, to make up for the early morning activity. If you want to add whale watching to your itinerary its best to head down to Mirissa Bay, Sri Lanka's most southern point.
Udawalawe Elephant Transit Home
Elephants are held in high regard in Sri Lanka and the protection of them is of utmost importance at the Udawalawe Elephant Transit Home. Your guests can visit during feeding time and watch the sick and orphaned elephants be fed milk by their carers. There is also the opportunity to learn about their rehabilitation and release into the wild. At any one time there is on average around 40 elephants in the rescue centre being rehabilitated. This is a great activity that gives back to the elephant conservation and lets your guests see these majestic beasts up close.
Udawalawe National Park
If you go to the elephant transit home, then you need to take a jeep safari around the Udawalawe National Park. This is where the rehabilitated elephants get released and you and your guests can get to see the wild elephants in their natural habitat. But there are more than just elephants in the grasslands and bush forest, you can also see crocodiles, peacocks, monkeys, and much more. Each Jeep will fit 4-6 with multiple jeeps to accommodate larger groups. If you plan a visit to Udawalawe National Park it's best to visit in the afternoon, between December and June. If you aren't in the area, don't fret there are several national parks across Sri Lanka, including Yala which is famed for its leopard population.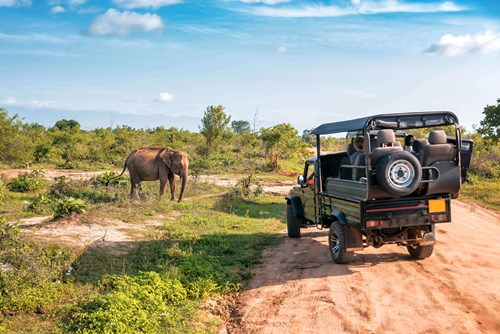 CSR Opportunities
Distant Frontiers makes CSR an important part of their mission and made sure to highlight the CSR opportunities within Sri Lanka available for companies. Specifically, many of the schools within Sri Lanka are underfunded and businesses can get involved by donating shoes, vouchers, and money to schools to help improve the school life of the children.
Guides
Another recommendation for your stay in Sri Lanka to make it as seamless as possible it to have a guide for the duration. They can help you and your guests with local businesses, activities, and food outlets, especially helping with dietary requirements. They are also fantastic for offer local knowledge and history during your stay.
Where to Stay
During her time in Sri Lanka our project manager got to see a variety of 5-star resorts across the southern half of Sri Lanka, enjoying a traditional welcome dance and tour of each of the hotels below. When planning your itinerary, it's important to consider the activities in the surrounding locale, to avoid spending large chunks of your stay travelling.
The first hotel we visited was the Shangri La in Colombo. This is the closest hotel in our list to the international airport with about a 45-minute to an hour travel time by expressway. Right in the heart of the financial district of Colombo, it's unsurprising this hotel boasts the largest convention facility in the city, making it ideal for conferences. With 500 rooms it is the largest we visited and well located for nearby amenities including a high-end shopping mall, local shops, restaurants, and casinos. Inside the hotel there are four dining and wining options available, spas, and pools for your leisure.
Anantara Kalutara Resort, Kalutara
The Anantara Resort in Kalutara is perfect for incentives. Only a 1-hour and 30-minute drive via the expressway or 2-hours by train, this beachfront resort boasts an impressive array of activity options. Onsite there is a spa, pool, adventure tower, air rifle shooting, and archery, as well as having cinnamon plantations and Kasgoda turtle sanctuary under an hour drive away. With a total of 141 rooms this hotel has plenty of selection to meet your event needs.
Anantara Peace Haven Resort, Tangalle
On the southern coast of Sri Lanka near the old fort town of Tangalle sits Anantara Peace Haven Resort. With 152 rooms, including 32 private pool villas, this resort has the benefit of privacy over some of the others on this list. There is a longer travel time to account for with a 3-hour drive from the airport or 4-hours by train. Like the other hotels, Anantara Peace Haven, has a selection of restaurants with a variety of cuisines, a bar, and a spa onsite. When it comes to activities, Peace Haven Resort, is nestled between Mirissa for whale watching, Udawalawe National Park, and Yala National Park.
Cinnamon Bentota Beach, Bentota
The newly renovated Cinnamon Bentota Beach Resort is the perfect tropical paradise on the southern coast of Sri Lanka. This hotel is located slightly further out than Anantara Kalutara Resort with a 1-hour and 45-minute drive from the airport or 2-hour to 2-hours and 30-minutes by train. This hotel has 159 rooms to chose from and four different restaurants and two bars, giving guests a wide selection of cuisines and styles to choose from. Onsite facilities include a spa, water sports, and an authentic Sri Lankan artisan village. It's location also means it benefits from having cinnamon plantations and Kasgoda turtle sanctuary under an hour drive away.
Amangalla is a truly unique resort and very exclusive, giving it the ultimate premium feel. This 29-room hotel may be the smallest on the list, but it is great for incentives, with the option to hire the whole hotel for your guests. The converted 17th century colonial building finds its home within the ramparts of Galle fort. There are two dining options and two bars available onsite, however the Galle town has plenty of restaurants within walking distance to make up for it. Slightly further a field than the previous entries, it takes 2-hours and 15-minutes to drive to Amangalla from the airport, or 3-hours by train. Its central location does mean it has ideal travel times to Kasgoda Turtle Hatchery, cinnamon plantations, tea estates, and Mirissa for whale watching.
In the seaside setting of Tangalle on the southern coast is Amanwella resort. Only slightly larger than Amangalle, with 30 suites all with private plunge pools, Amanwella is the epitome of seclusion. There is one main restaurant onsite and three other bar and dining options, and a spa, available for guests. Located in Tangalle there is again longer travel time to account for with a 3-hour drive from the airport or 4-hours by train. However, this does put it closer to Yala and Udawalawe National Parks, and Mirissa for whale watching.
Cape Weligama is a luxury, ocean front resort with 39 suites in total. It's ideal location by Mirissa is perfect for whale watching and only a 45-minute drive to Galle as well. They have one main restaurant, a surf bar, and cape club, as well as a spa. Being on the southern tip of Sri Lanka it's a 2-hour and 30-minute drive via the expressways, or a 3-hour to 3-hour and 30-minute train journey.
Wild Coast Tented Lodge, Yala National Park
With a fenceless boarder to Yala National Park, renowned for its leopard population, Wild Coast Tented Lodge is a fantastic pick for big cat fans. The 28 private 'cocoons' utilise natural materials to blend into the rugged private beach and forests that surrounds them. The resort boasts a restaurant, bar, spa, and even a library. It's ideal location by Yala national park does mean it is the furthest from the international airport, with a 4-hour drive. The alternate option is to take a 50-minute charter flight to Mattala airbase followed by a 1-hour drive.
Where to Eat & What to Eat
That's travel and hotels covered, now onto the important aspects of food and drink in Sri Lanka. It can be intimidating navigating dietary requirements in a foreign country; however, our project manager found an array of hotels and restaurants that catered for a host of dietary requirements.
There are many restaurants in Sri Lanka where you can eat, ranging from local to international chains. You won't struggle to find whatever cuisine you're looking for whether it is English, Italian, Chinese, or authentic Sri Lankan food.
As the largest city in Sri Lanka, Colombo has the best variety of outlets available. Outside of Colombo, hotels will often have a variety of restaurants available as well as towns having a selection of establishments to chose from.
Jungle Beach
Jungle Beach is a perfect dining option following a sunset turtle release or for those staying in the Kalutara or Bentota area. Enjoy exquisite seafood on a private beach that can be hired and dressed to suit your needs. This is perfect for beach parties or torch-lit meals with the option to play music late into the night.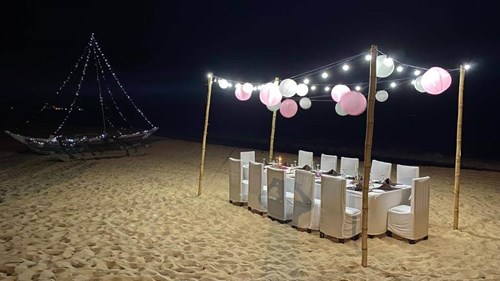 Local Sri Lankan Lunch
There is also the option to enjoy authentic Sri Lankan food, prepared by locals. Depending on the location chosen this can be catered for groups up to 60 but do ensure to have a guide handy to make sure all allergen information can be discussed.
Shang Palace - Shangri La, Columbo
The Shang Palace is the Shangri La Hotel's Chinese restaurant. They offer bottomless green and jasmine teas with a wide selection of Chinese dishes, including sharing dim sum, rice and noodles dishes, Cantonese crispy chicken, and fried beef. The staff are attentive and offer high-class service.
Aqualina Restaurant - Anantara Kalutara Resort, Kalutara
Aqualina at Anantara Kalutara Resort is a relaxing, Italian restaurant overlooking the hotel's pool. They offer a variety of Italian dishes such as carpaccio, soups, mains like beef tenderloin, and classic desserts such as tiramisu.
Cinnamon Bentota Beach, Bentota
Cinnamon Bentota Beach offers a champagne brunch by the beach, a great way to start any day in Sri Lanka. You'll find miniature bagels, omelettes, champagne, and fresh juices for those who'd prefer it.
Amangalla, Galle
Amangalla offers the option to step back in time and dine in a private room within the colonial building. Here you'll find fantastic authentic Sri Lankan food such as, kottu roti, hoppers, rice, and traditional curries.
Amanwella, Tangalle
Amanwella Tangalle also offers you and your guests the chance to have a private dinner on the seafront. You can liven your meal with the option to have a local band playing traditional music. They specialise in authentic grilled seafood, but you'll also find beef, chicken, and other options if fish doesn't take your fancy.
Grand Udawalawe Safari Resort, Udawalawe
The restaurant at the Grand Udawalawe Safari Resort offers guests an extensive buffet of traditional foods, BBQed meats, fish, and pasta. If you like things spicy then the Grand Udawalawe Safari Resort's buffet will scratch that itch. This is perfect way to fill up before heading out for a day on safari.
Verala - Anantara Peace Haven Resort, Tangalle
Verala at Anantara Peace Heaven offers a mix of Sri Lankan teppanyaki and Japanese cuisine including spiced vegetable broth, kottu roti, and more. However, you'll also find familiar favourites like sticky toffee pudding and ice cream. They also offer a selection of cocktails, like frozen strawberry daiquiri, perfect to enjoy by the beach.
A World of Choice
As you can see, there is no limit to the opportunities available for incentives in Sri Lanka. With the great weather all year round, it makes it a fantastic destination for companies. So, whether it's to experience the amazing tastes of Sri Lanka or get up close with some of the most impressive animals in the world, Sri Lanka is the place. If you want to talk to us more about your own Sri Lankan adventure, contact us now.