Spotlight on... Germany
31 October 2022
From beautiful Berlin to historic Munich, the rivers of Rhine Valley to The Black Forest, there are thousands of reasons why Germany is a perfect incentive travel destination. But in such a vast country with so much to do, where do you begin? Well don't worry, we're here to help.
This central European country sandwiched between the Alps and the North Sea is home to almost eighty-four million residents, and shares a border with France, Denmark, Poland, and Switzerland, making it an ideal location for European businesses.
Getting There & Getting Around
When it comes to air travel Germany presents quite the range, boasting thirty-six international airports in total, so there are plenty of flight options.
For those looking to explore Germany's historic Southern regions, you can't go wrong with Munich International Airport, only a short drive from multiple stunning and culturally significant locations, such as Scholoss Nymphenburg or Herrenchiemsee Island by Traunstein.
If you're looking further west you've got a choice between Dusseldorf International Airport, perfect for if you're looking to visit Munster or Essen, or Frankfurt Airport if you find yourself veer further central.
Berlin Bradenburg or Berlin-Tegel have you covered if you're in the east and want to spend time in Dresden or maybe hop over the border into Poland.
Finally, Hamburg Airport is great for if you're looking to the north, with such incredible locations as coastal Bremerhaven or the Schleswig-Holsteinisches Wattenmeer National Park, as well as easy access to Denmark.
Weather 
Germany's weather is surprisingly consistent geographically speaking, with the country maintaining a temperate seasonal climate throughout, the only notable exception being the Southwest, reaching record highs for the country almost every year, giving the region an almost Mediterranean feel at times. Unsurprisingly, this is where the majority of Germany's wine is made.  
Provided you pack appropriately for the season, Germany is a great country to visit year-round. That being said, the most popular period for tourists tends to be from May through to September. If milder weather and low tourist numbers are what you're looking for, April and October ("the shoulder months" as they're sometimes called) are your best bet. The winter months are also a big draw, with visitors flocking to the country's many charming Christmas markets. This time is also especially popular with winter sports enthusiasts, with ski season stretching from December right through to the end of March.   
Where to go & What to do
From culture to couture, Germany has a little something for everyone, no matter where you're staying. Here's just a few of our favourites.
Dresden Zwinger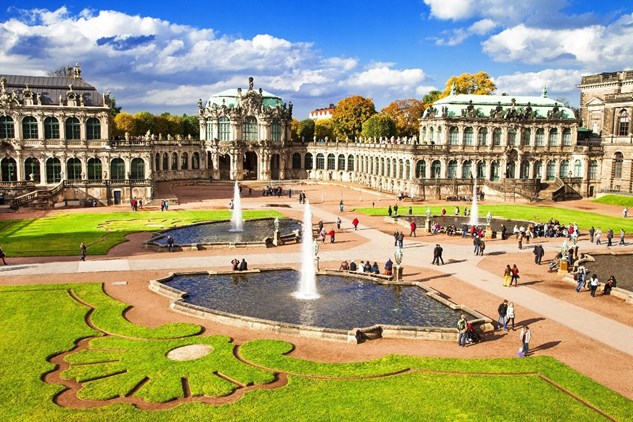 This one is for all the architecture fans out there. The Dresden Zwinger is one of Germany's most famous Baroque buildings, the most famous in Dresden aside from the Church of Our Lady. Designed by Matthaus Daniel Poppelmann, The Zwinger is a palatial complex which encloses a series of gorgeous gardens and fountains, inside of which visitors can take in various museum exhibits. Or, if you're looking for some evening entertainment, the Zwinger plays host to many classical concerts and operas throughout the year.
Berchtesgaden National Park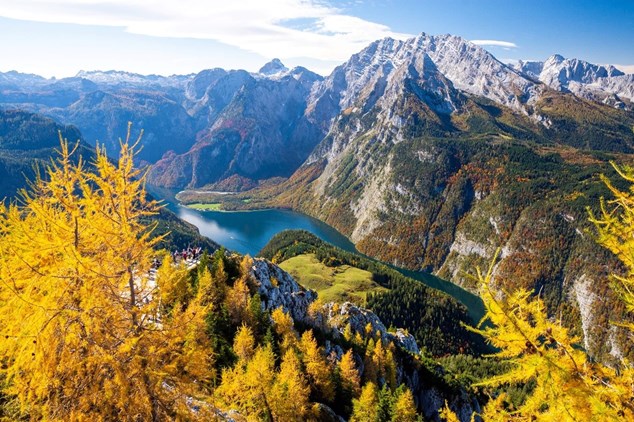 From the east to the very deepest part of the south, we find our next location we in Berchtesgaden, the first and only national park to open in the German Alps. Berchtesgaden is a haven for any nature lover, with stunning vistas stretching as far as the eye can see, the national park offers a truly unique adventure for any hiking fan. The official Berchtesgaden website describes the area as "…a unique little world where nature can develop of its own accord and where people can breathe in unison with a healthy environment."
The BMW Museum
Finally, for all the car nuts out there, we recommend BMW Welt. BMW Welt depicts the history of the car company from start to finish, complete with pristine models of cars predating World War One. The museum offers guided tours, previews of their latest models, and even children's birthday parties.
What to Eat
German cuisine consists primarily of rich, hearty meat dishes. Germany is known world-over for their food markets and beer gardens, and with good reason. Here's what a typical three course meal might look like during your stay:
For starters, Germans tend to go for a light, savoury snack selection, such as a Bavarian Cheese Board, Red Herring Salad, or Smoked Trout Dip with toasted bread.
Your main course is rather dependent on the time of year. Mushrooms, game, and vegetables, all staples of German cuisine, all have their season. These usually accompany some form of sausage, such as Weisswurst, a typical Bavarian speciality and available practically anywhere in the country. If you're not in the mood for sausage, there are plenty of other German dishes to try, such as roasted pork loin with sauerkraut, pork cutlet with apple and onions, and goulash.
For dessert, sweetness is certainly on the menu. For the fruit lovers, blueberry cake or fruit flan are commonly served very commonly. However, our greatest recommendation comes in the form of black forest gateau. This world-famous delicacy has earned a recommendation across the globe, and with good reason, but the imitations over here in the UK are nothing compared to the real deal. A must try for sure.
Whether you're looking for a city break or a hike through the country, Germany has precisely what you're looking for. If your company is looking to book an incentive travel opportunity, be sure to go to our contact page, or hit the button below.