Spotlight on... Dublin incentives
24 October 2019
We recently planned and delivered a client event in one of Europe's most accessible cities for UK events and incentives visitors – Dublin. 
With just 36hrs in the Irish capital, our clients enjoyed a varied, action-packed itinerary that still allowed plenty of free time for exploring this compact, welcoming city. From Irish jigs in Temple Bar to a buzzing, youthful nightlife scene, and from the majestic architecture of St Patrick's Cathedral to tastings at the Guinness Storehouse, Dublin is an unforgettable destination for events and incentives. 
Join us for a quick look at what Dublin offered our recent client event – and what it could add to yours! 
---
Getting There & Getting Around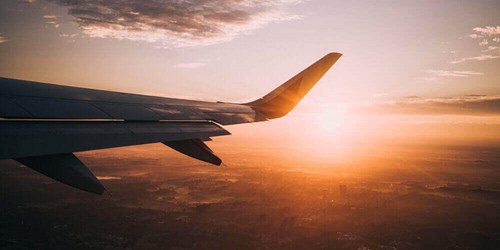 Dublin is super accessible, with BA, Aer Lingus, Ryanair and Flybe all offering affordable flights from across the UK. Flight times are just 1hr 15mins from London, and 1hr from Manchester.  
That makes Dublin close enough for a single-night visit – our client group flew out at 8:20am on a Saturday, and came back at 8pm on the Sunday. Dublin airport is only around 10km from the city centre.  
---
Where to Go & What to Do
Get to know Dublin's signature drinks: Guinness Storehouse is brilliant – tour the brewery, book lunch at one of the great restaurants and - of course - enjoy a pint of the Ireland's best-known export. 
Alternatively, head for the Jameson distillery, then keep the theme going with a visit to the Irish Whiskey Museum – get the VIP package for a guided tour, extra tastings and whiskey glasses to take home. 
Explore the city: As well as standard bus tours and opportunities to explore hidden corners on foot, by bike or by Segway, Dublin has some very different tour options too – everything from a silent disco tour bus to ghost tours in fancy dress. 
Take your pick, but do catch some of the big sights – Dublin Castle, the National Museum of Ireland, St Patrick's Cathedral (the largest church in Ireland) and Kilmainham Gaol to name just a few. 
Experience the nightlife: Dublin is renowned for its nightlife, when the city comes alive with music and traditional Irish dancing in crowded pubs and on cobbled streets. There's more here than just Temple Bar too – our client group headed for one of the city's best nightclubs, and Dublin's a fiercely contemporary city with cocktail bars and restaurants that rival some of London's best.  
Get outdoors: If you have a little longer in Dublin, go deer spotting in Phoenix Park, head for the historic Dun Laoghaire Pier for views of Dalkey Island and Dublin Bay, or take a hike into the surrounding mountains for widescreen views. For an adrenaline hit, head for the nearby beaches – Seapoint, Rush North and Killiney are favourites – and try kitesurfing or horse riding on the sand. 
---
Hotels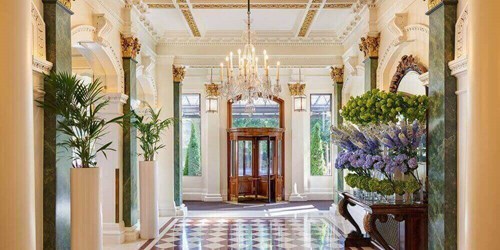 Irish hospitality is legendary, and Dublin's hotels range from big chains and conference hotels to world-class boutiques. Highlights include: 
The Shelbourne: The Shelbourne (pictured) is a Dublin institution – pure five-star elegance, centrally placed overlooking St Stephen's Green.  
It's been here since 1824, and that heritage shines through – the crisp, turned-out bellhops and front of house team are something from the golden age of travel. The Saddle Room restaurant is exceptional, and afternoon tea at the hotel is a Dublin tradition. 
The Marker Hotel: The Marker Hotel, where our client group had lunch on the Saturday, is a five-star boutique with a waterside location, design-led rooms, and a rooftop bar with great views over Dublin's docklands. In-house restaurant the Brasserie serves excellent contemporary takes on Irish classics. 
Number 31: Tucked away in the heart of Georgian Dublin, a 5 min walk from St Stephen's Green and 2 mins from the Grand Canal, Number 31 is a small hotel with some big facilities. Its unique Georgian-meets-modern character really embodies the spirit of Dublin.  
---
Restaurants & Bars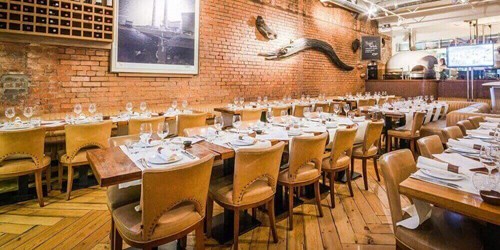 Fade Street Social: Conde Nast called Fade Street Social 'a great place to kick off a night out'. It's a lively, buzzing restaurant with a great Irish-inspired tapas menu and an impressive gin cocktails menu. The rooftop bar is a great place to toast your time in Dublin.  
Other highlights for dining include classics from Michelin-starred chef Oliver Dunne at Cleaver East (where our client group had dinner), The Greenhouse's Michelin-starred Scandinavian-inspired dishes, fine dining at Chapter One, and legendary seafood at Michael's in Mount Merrion. 
For cocktails head for opulent basement bar 9 Below on St Stephen's Green, The Bar with No Name (its tiny rooftop terrace is great for small groups), or the compact but excellent Peruke and Periwig. For more traditional pubs try… well, almost anywhere. Start at Temple Bar. 
---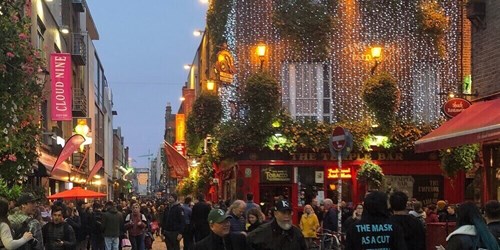 __________
__________
Interested in talking to the Inconnection team about your event or incentive in Dublin? Get in touch now via the button above, or call 0161 498 3311 to talk to us.